Patients want to feel safe, secure and taken care of when they enter a hospital setting. For Our Lady of Lourdes Regional Medical Center patients, a nationally recognized "A" grade in safety means peace of mind during some of your hardest health moments.
It also means that Lafayette residents can be confident they have the safest place to turn to for their health needs right here in their own community.
National healthcare watchdog organization The Leapfrog Group gave Lourdes an "A" grade for patient safety for spring 2022. The celebrated rating is based on a peer review of more than 30 performance measures looking at the number of accidents, injuries, infections and errors in a hospital setting, as well as the efficiency of systems a hospital puts in place to prevent harm.
Leapfrog conducts its review twice a year in spring and fall, investigating nearly 3,000 general hospitals across the nation. Lourdes' top-tier grade this spring follows an "A" grade it received in fall 2021—acknowledging a consistent system of safety protocols that positions it as the safest hospital in the Lafayette area.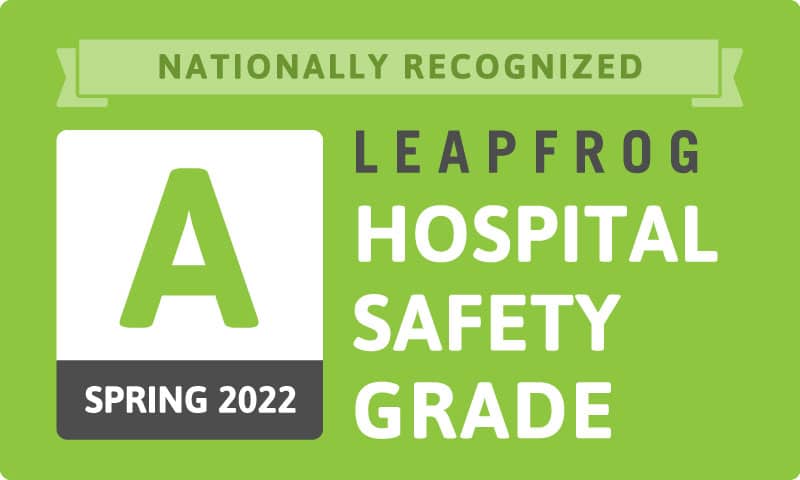 The Lourdes team received particularly high marks in areas such as preventing dangerous bed sores, preventing falls that lead to serious injuries like broken hips and preventing infections in the blood. Lourdes was also commended for establishing clear communication with patients about medicines as well as the discharge process and educating them about safety during recovery.
Mistakes in a hospital setting unfortunately are not rare, but they can be prevented when medical teams work well together and there is good leadership in place to ensure that patient safety is the top priority.
According to Leapfrog:
About 200,000 people die every year from hospital errors, injuries, accidents and infections.

Each year, 1 out of every 25 patients develops an infection while in the hospital that could have likely been prevented by attentive medical staff.

A Medicare patient has a 1 in 4 chance of experiencing injury, harm or death when admitted to a hospital.
Leapfrog offers several tips on how to prepare for a hospital stay and to make sure you and the medical team are on the same page about all your needs. There are also ways you can advocate for yourself about potential mistakes and to protect yourself or a family member during a hospital visit.
Your bedside nurse is a good first point of contact if you need to talk to someone about a concern or if you see an error being made.

If you're unsure who to talk to, ask to speak to a hospital employee who can address a concern or complaint. Let them know that you'd like to hear back about what's being done, and make sure you or a family member follow up after reporting the concern.

You can report any concerns or register complaints by either calling Joint Commission's Office of Quality Monitoring at (800) 994-6610 or emailing

complaint@jointcommission.org

.
We're committed to safety across the Franciscan Missionaries of Our Lady Health System. Find out more about our commitment to quality here.