Being able to access exceptional healthcare close to home is important for Elliana, a 5-year-old Kindergartener in Lafayette who's been through a lot in her young life.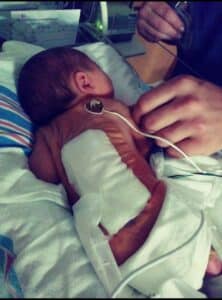 At her 20-week anatomy scan, Jessica Cavalier learned that Elliana had spina bifida, a complex condition that happens when a baby's spine and spinal cord don't develop properly in utero. The family knew they had to prepare for the unknown.
Born September 28, 2018, Elliana's first days of life were spent in Baton Rouge where she was born. Her diagnosis of spina bifida was confirmed, and she had hydrocephalus, a condition where cerebrospinal fluid accumulates in the brain leading to increased pressure to the skull.
The day she was born Elliana had surgery to close the hole in her lower back, and the next day had surgery on her head to place a shunt to alleviate the pressure by diverting excess cerebrospinal fluid. She had to stay in a neonatal intensive care unit (NICU) for about a month.
After two weeks at home, Elliana became very sick with RSV and returned to a pediatric intensive care unit (PICU). She ended up with a bacterial infection, stayed in the PICU for several weeks and had a shunt replacement surgery. Doctors also discovered Elliana had a blood clot on her heart and was having episodes of bradycardia; her heart rate would drop and her oxygen levels went down.
This was a terrifying time for the family, as doctors told Jessica to prepare for the worst. Elliana overcame the odds and recovered.
Trusted Healthcare Partner
When Elliana was about a year old, her family moved to Lafayette, which marked the beginning of their relationship with Our Lady of Lourdes Women's & Children's Hospital. She began receiving care from pediatric neurosurgeon Anne Marie Flannery, MD, who placed Elliana's third shunt in July 2019.
Despite the challenges associated with spina bifida, Elliana's family had to confront another unexpected hurdle. One night, her mother noticed her experiencing a seizure and acted swiftly to seek medical attention. 
"That was a very scary experience. I thought I was going to lose my child," Jessica says. "I had no idea about seizures or anything."
It was a harrowing experience, but it led them to Our Lady of Lourdes Children's Health pediatric neurologist Kenneth Habetz, MD, and nurse practitioner Kayla Kenney, NP.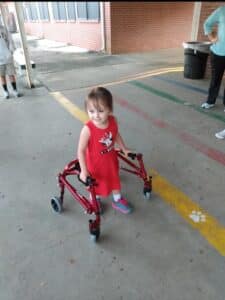 After undergoing various tests and an EEG, Elliana's epilepsy diagnosis was confirmed. Fortunately, with the right medication, careful diet and guidance, she has managed to avoid convulsing seizures since that frightening night. 
"We love Ms. Kayla and Dr. Habetz," she says. "They're awesome."
Dr. Habetz explains more about seizures and epilepsy in this episode of our ParentingU podcast.
Unshakeable Spirit
Throughout her journey, Elliana has shown herself to be a remarkable child. She exudes positivity, sociability and an infectious enthusiasm for life. Her mother fondly describes her as a "little firecracker."
At a recent appointment Dr. Habetz asked Elliana what she wants to be when she grows up. Her answer: a dinosaur, specifically a rhino-saurus. All of Elliana's providers are impressed with the progress of this strong little girl who has overcome a lot. 
"She's a people person, a little social butterfly," Jessica says. "She's bubbly, talkative and a happy, smart little girl. 
Supportive, High-Quality Care Close to Home
Although the family could travel to New Orleans to receive ongoing spina bifida care, Jessica says she chooses to stay with the doctors they know and love. In addition to regular follow-ups with Dr. Habetz and Dr. Flannery, Elliana also sees pediatric orthopedic surgeon Gabriel Dersam, MD.
"We'd rather stick to Lourdes and keep everything right here," Jessica says. "We love her doctors. They are amazing. It's a blessing to have everything we need here in Lafayette."