Lafayette native Gwendolyn Marie Dunbar, affectionately known as Ms. Gwen, experienced transformative care from St. Bernadette Community Clinic, an outreach ministry supported by Our Lady of Lourdes Foundation that serves people experiencing homelessness and under insured by providing non-emergency medical and dental care services. 
Born and raised above 12th Street, Ms. Gwen had always been known for her radiant smile. Although life's challenges dimmed her smile, when she connected with the clinic for much-needed dental care her smile returned. 
Ms. Gwen's first encounter at the clinic began with a simple need for dental care. Her first meeting with the clinic's dedicated staff, especially the compassionate Ms. GiGi, marked the beginning of a life-changing experience. St. Bernadette's not only provided Ms. Gwen with essential dental extractions but also became a beacon of hope, love and kindness in her life. 
"The dentists who come in love people, take their time and explain to you what's going to happen and what they're going to do for you," she says. "I like that. I like to know what's going to happen. I don't want to just go in and have someone put a needle in my mouth."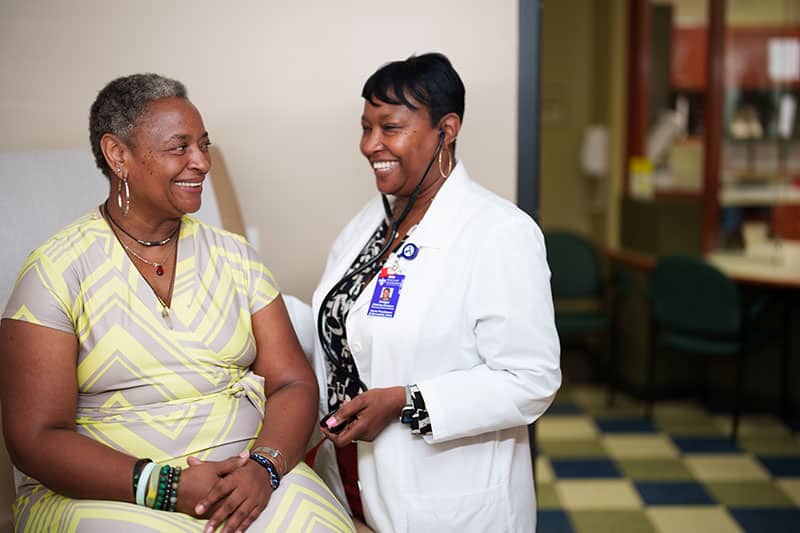 Transformative Care and Emotional Support 
Ms. Gwen's dental process at St. Bernadette Clinic involved several visits, including initial exams, X-rays and tooth extractions. With each step in the process, she felt the genuine care and concern of the clinic's staff. They not only addressed her dental needs but also provided emotional support, nurturing her spirit along with her smile.  
Because of established relationships with other community agencies, St. Bernadette's was able to connect Ms. Gwen with the resources she needed to have dentures made. This transformative experience helped her to rediscover her identity and place in the world. 
"They allowed me to get my smile back, what else can I say? I'm a person who loves to smile, and they blessed me with that," she says. The clinic also helps Ms. Gwen maintain her smile, as she continues to receive ongoing dental care. 
Smile to SMILE 
Today, Ms. Gwen's smile shines brighter than ever before. Her newfound confidence inspires her daily mission – to spread love, kindness and joy to others.  
At the SMILE Community Action Agency, where she works as a case worker, Ms. Gwen embodies the spirit of compassion she found at St. Bernadette Clinic. Every day, she extends a helping hand and a warm smile, reminding others that they are not alone, and there is hope even in the face of adversity. 
"What inspires me is just to be able to give somebody a smile and a hug and just to let them know that God loves them and that it's going to be OK," Ms. Gwen says. "A smile can carry the whole world."