The world of college football is known for intense rivalries and passionate fan bases. The power of organ donation and love have overcome the rivalry for two families who root for opposing Tiger teams. 
The Journey to a Shared Heart
In 2015, Louisiana State University fans Jonathan and Holley Perry gave birth to twins — John Clarke and his sister Ella. Auburn University fans Tucker and Amanda Boswell gave birth to a boy – Davis. 
Just days old and at home in Auburn, Davis contracted a virus that attacked his heart. Doctors told the Boswells that Davis' only chance of survival was a heart transplant.  
Around the same time in Louisiana, John Clarke developed a high fever and was taken to St. Francis Medical Center in Monroe where he was admitted to the Pediatric Intensive Care Unit (PICU). 
Doctors determined that John Clarke had a brain bleed. He passed away a few days later, but not before his parents made a decision to give the gift of life and make John Clarke a hero by helping others through organ donation.  
One of those helped was Davis, the recipient of John Clarke's heart. When the families met for the first time, the Perry family shared something special about the heart: while it may be in an Auburn fan, it will always "bleed purple and gold."
While they cheer for opposite teams, the two families are brought together by one heart. They reunite each year at the Auburn/LSU football game to spread awareness about organ donation and increase the donor registry by encouraging sign-ups at registerme.org/heartofatiger. 
Continuing to Honor John Clarke's Legacy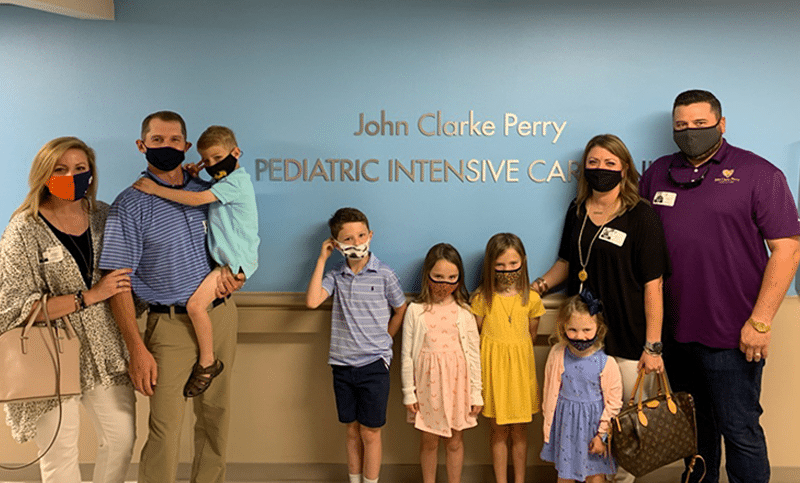 In April 2021, the Monroe community gathered to honor John Clarke when the PICU at St. Francis Medical Center was renamed in his honor, recognizing the John Clarke Perry Foundation's generous donation to the St. Francis Medical Center Foundation.
This tiny hero's name graces the entry to the PICU, and the hospital's dedicated pediatric team continues to honor his memory by providing the best possible care to children in Northeast Louisiana.