While no one wants to be in the hospital for their birthday or the holidays, one young patient said he had his "best birthday ever" when he was staying at Our Lady of the Lake Children's Hospital during his fifth birthday this year.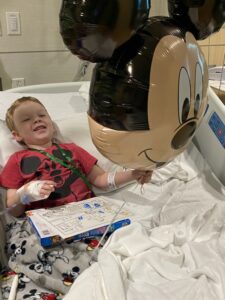 Corbin had a stomach bug that became serious enough that his mom, Laura, and dad, Brandon, had to take him to our emergency department. After two bags of fluid, Corbin still wasn't eating or drinking so was admitted to Our Lady of the Lake Children's Hospital the day before his December 1 birthday.
"He was upset at the time that he wasn't where he wanted to be for his birthday," Laura says. But after experiencing the celebration and exceptional care during his stay, "Corbin flat out said it was his best birthday ever."
Once his Child Life Specialist found out it was Corbin's birthday, she sprang into action. "She came back an hour later with presents, a huge Mickey balloon and happy birthday balloon," Laura says. With a box from The Confetti Foundation, Corbin received a birthday banner, lanyard and sign on his door to let everyone know he turned five.
"Every single person that came into his room that day, the doctors, residences, nurses, CNAs, even the cafeteria workers who brought his tray, told him 'Happy birthday! We're so excited it's your birthday!'" Laura says. "They went above and beyond, and I can't thank any of them enough."
Beyond the birthday celebration, Laura says she was impressed by the care Corbin received. Fortunately, it was the family's first experience with Our Lady of the Lake Children's Hospital.
"We're used to an adult hospital, so this was just mind blowing how sweet and caring and empathetic toward him they were," she says. "It definitely helped us feel better too knowing that they were so sweet in taking care of him and wanting him to get better. It was a great experience considering the circumstances."
Thankfully Corbin was able to be discharged and come home the next evening after his big day. His dehydration resolved, and he's back to himself and all his normal activities, including playing with his siblings Baylen, Blakely, Wyatt and Colton.
Celebrating kids is central to what we do at Our Lady of the Lake Children's Hospital. From holidays to milestones, birthdays to discharge, every day in our young patients' lives gets commemorated in some way.
From tummy bugs to more serious diagnoses, Our Lady of the Lake Children's Health network is here to provide exceptional care for your family. Get connected with a provider today.