Maintaining a healthy weight is key to overall health, and it can be harder for women to shed unwanted pounds.
Having a coach and support system at St. Francis Medical Group has been the key to Holly Sullivan's successful weight loss journey. Holly has lost 100 pounds so far on the Ideal Protein diet, a program designed to set, achieve and maintain weight loss goals.  
"I feel wonderful," Holly says. "It's an amazing diet, and I'm so blessed to be on it. I feel much better, and I've got a lot of energy since I've lost weight."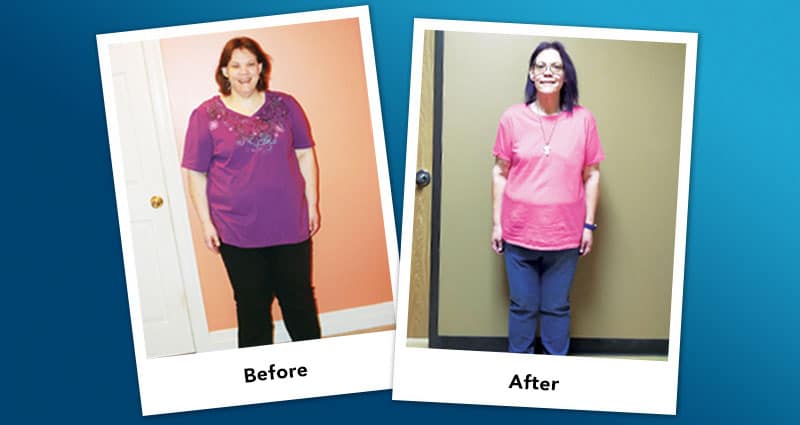 Milestone Birthday Leads to Lifestyle Reset
Just before her 50th birthday last year, Holly noticed an Ideal Protein poster at her primary care provider's office. She asked her provider, Katie Womack, NP, about the program and got started in February 2021. 
"My mom is a diabetic, and I thought to myself if I don't change my lifestyle, nobody will do it for me," Holly says. In just over a year, Holly has dropped inches and weight, going from a size 24 to size 14 in pants, and 3XL to L in shirts. Her goal is to wear a size 12. 
How Ideal Protein Worked for Holly
Ideal Protein is a three-phased program. Holly just entered phase 2, stabilization.  
During phase 1, active weight loss, carbohydrate intake is limited to encourage the body to turn to its fat stores for energy. By eating Ideal Protein foods, the program helps to sustain muscle mass while developing smarter eating habits and lifestyle choices, to help maintain after weight loss is achieved. 
In phase 2, Holly hopes to lose a bit more as she continues to maintain her healthy weight and strengthen her healthy habits. Holly has incorporated other healthy lifestyle choices, including walking a mile every day and drinking lots of water.  
Phase 3 will be about maintenance, living the fullest, healthiest and best life possible. Coaching, education and support continue for the first year after stabilization, and twice-a-year "tune ups" are encouraged. 
Coaching and Support
Throughout her time with Ideal Protein, Holly has met weekly with her coach, Kyla Swett, at the St. Francis Medical Group Primary Care Clinic in downtown Monroe. Holly and Kyla will continue to check-in each Thursday throughout phase 2. 
"Kyla is amazing," Holly says. Their work together helps keep Holly on track, and she's able to purchase her Ideal Protein food from Kyla directly. 
She recommends the diet to others who are looking to take control of their health through weight loss. 
"Ideal Protein is a really good diet to be on," Holly says. "I hope I can maintain my weight for the rest of my life."