In a race against time, 17-year-old Lauren is teetering on the verge of needing dialysis. She is in need of a living kidney donor as part of her battle with dense deposit disease, an ultra-rare autoimmune disease that is impacting her kidneys.
Starting her senior year of high school in Gonzales, Lauren hopes to find a donor for a transplant that will allow her to stay off dialysis. Our Lady of the Lake Children's Hospital played a pivotal role in Lauren's diagnosis and continues to be a key player in her ongoing care.
Mysterious Onset
Lauren's symptoms started in 2020, about a week after the COVID-19 shut downs.
"At first I thought it was an allergy attack," says Toni Swanson, Lauren's mom. About a week later, Lauren's legs started to swell. "I instantly had to figure out MyChart and send some pics to her pediatrician."
Lisa Le, MD, called early the next morning.
"We love Dr. Le," Toni says. "She was in tune enough to Lauren's symptoms just by pictures and what I was telling her." Dr. Le was the first to tell Toni that Lauren was showing signs of kidney problems and explained what a pediatric nephrologist is, a specialist who diagnoses, treats and manages disorders affecting the kidney and urinary tract.
After an appointment with a pediatric nephrologist at our Children's Hospital, Lauren was admitted and stayed for 25 days, during the height of COVID-19. Lauren is the youngest of four daughters, and suddenly the family was without Toni and Lauren during that hospital stay.
"We lived in our 8 by 8 box life," Toni says. "It was scary. There were literally moments and nights I thought I wouldn't see my child the next day. It was intense."
Care at Our Lady of the Lake Children's Hospital
Toni praises the hospital team's extraordinary compassion and dedication.
"The doctors and nurses at the children's hospital – amazing is not the word," Toni says. "They're a different breed of person, and they've become our family. From the lead doctors to the cleaning crew and cafeteria workers, everyone was so compassionate and caring."
The pediatric residency program at Our Lady of the Lake Children's Hospital stood out to Toni during their visits to the hospital.
"I remember, I thought I was in Grey's Anatomy, the way the training goes down," she says. "It was phenomenal to watch the levels of people being trained at the same time."
Discovering Dense Deposit Disease
Initially, Lauren was diagnosed with lupus nephritis, but the symptoms didn't fit completely. It was the third biopsy that indicated dense deposit disease.
"No one knew what it was or how to explain it," Toni says.
Ashley Rawson, MD, pediatric nephrologist, went above and beyond to find a specialized center in Iowa that could explain the condition and offer access to the latest clinical trials. She connected the family with a research clinic at the University of Iowa.
"Looking at Lauren's history, a few things were not very clear," Dr. Rawson says. "Lupus is difficult to diagnose and can present in many ways. It was clear when she presented that she was in acute renal failure but occasionally lupus and other conditions can look the same on a kidney biopsy."
A surveillance biopsy due to limited treatment response led to Lauren's diagnosis. "Dense deposit describes what we see on pathology when we look under the microscope," Dr. Rawson says. "Lauren has a dense line of immune deposits along her glomerular basement membrane, the part of the kidney that allows things to be filtered."
Lauren's condition is rare and no genetic cause was identified.
"We don't know what triggered it, and we probably will never know," Toni says. "What they do know is it's a little less likely that the disease will recur after a transplant."
Dr. Rawson reached out to colleagues to talk about the findings, sent off additional testing and came up with a new treatment plan, which is an extremely expensive IV medicine Lauren has to get every 12 days. Starting the treatment was the first time Toni and Lauren really noticed a difference in how she was feeling.
Toni sings Dr. Rawson's praises, and the feeling is mutual.
"Everything that I said good about the hospital, multiply by 10 for Dr. Rawson," Toni says. "There's no one I've met in my life who's more compassionate medically."
Of Lauren and her family, Dr. Rawson says, "They have so much hope and compassion and they're just incredibly kind and giving people. They're wonderful."
Lauren's Resilience and Passion
Lauren has saved every wristband from her hospital stays, and she keeps them in a shadowbox. She took some of her senior pictures at Our Lady of the Lake Children's Hospital, including one with Dr. Rawson and her shadowbox of hospital bracelets.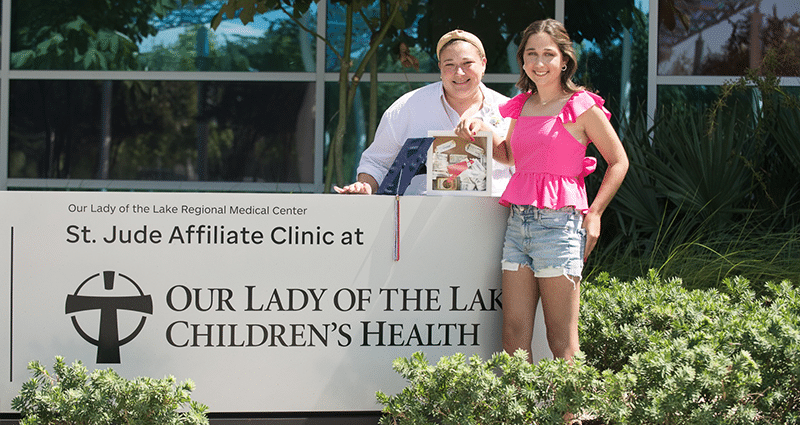 Beyond her medical challenges, Lauren is a vibrant and ambitious teenager. She loves crafting and has a passion for softball. Lauren has been a dedicated softball player since she was 8, playing on travel ball teams and for her high school. Despite the limitations her condition has imposed on her athletic pursuits, she remains determined to play softball during her senior year.
Lauren is academically gifted, maintaining straight A's even during hospital stays and treatment. She has a heart for serving others and has organized fundraisers to support those in need during natural disasters. Her plan is to attend LSU and study athletic training, following in the footsteps of two of her older sisters.
Lauren is not alone in her journey. She has a loving family that has been by her side every step of the way. Although family members have undergone testing to become potential donors, none have been a suitable match thus far.
A Call for Help and Hope
Lauren's story is one of courage, love and the power of community, but her journey is not just about her. It's about shining a light on a disease that is so rare few have even heard of it and helping future patients.
Toni says it's also about helping other families. She would pray, "If we have to walk through this, please make sure it's going to teach somebody to help the next child fighting the disease."
Lauren, her family and her medical team are actively seeking a living kidney donor. Their goal is to provide Lauren with a chance at a healthier life and access to trial medications that could help her overcome this rare condition.
"Unfortunately, Lauren's kidney function is between 10% and 20%, and she could need dialysis at any time," Dr. Rawson says. Patients like Lauren who receive living kidney donations tolerate those transplants better and have better outcomes, and Dr. Rawson encourages members of the community to consider getting tested to see if they may be a match and consider being an altruistic donor. "You only need one good kidney," she says.
"It's rare in life that you have the opportunity to save someone's life in such a direct way," Dr. Rawson says. "I feel like living renal donors are truly heroes. Donation is a surgery which always comes with risks, but the risks to donors is actually quite low. Testing to see if you are a match does not mean you are obligated to donate. Every member of Lauren's family would give a stranger a kidney if they could."
To support Lauren on her journey or learn more about becoming a living kidney donor, visit the family's Facebook page. Anyone willing to try testing can private message Toni through Facebook or email her at KidneyOfKindness@gmail.com. Potential donors can also apply online through the University of Iowa Health Center.
From ultra-rare conditions to everyday health concerns, our children's health network is ready to provide

the best in pediatric care

. It's that simple.