Jessica Macias, RN, CMSRN, works at Our Lady of the Lake Regional Medical Center as a Patient Care Services Float Nurse. Macias has been a part of our health system since early 2013. After nursing school, she began her career working on a med-surg unit.

"After 4 years on med-surg, I decided to transition to the float pool because I wanted a challenge," Macias says. "I have been a float nurse for over six years now. Joining the PCS family was the best decision I could have ever made in my career. I am always learning new things and it's never a boring day."
Macias also shares how being a float nurse gives her the opportunity to experience a variety of areas within the hospital. 
"It can be challenging at times, but it has proven to be a very rewarding experience for me," she says. "Being a member of the PCS department at this organization has shaped me into the nurse I am today, and for that I will forever be grateful."
Combining Cajun and Latin Cultures
Macias was born and raised in South Louisiana. Her mother is a native of Abbeville, Louisiana, but later moved here to Baton Rouge as a child. Her father is from Copetillo, a very small town in the Santa Rosa de Lima in La Unión Department of El Salvador. 
Macias says, "So, let's do the math shall we! I'm 50% Cajun and 50% Latina, which makes a fabulous combination. All I shall say is, if you know you know! I'm a part of two cultures that are very rich in culture and traditions."
A Dream for a Better Future
Macias' father migrated from his small town in El Salvador to the U.S. in the early 80s. Macias shares how at that time El Salvador was in the middle of the deadliest civil war in the country's history. The massacre of El Mozote, is an example of how dangerous El Salvador was at the time. That tragedy was the final straw that prompted a lot of people to flee El Salvador and seek refuge here in the states. 
"He and so many others left everything behind to seek safety and the hope for a brighter future," Macias says. "He left with nothing but the clothes on his back and $40. Sounds a little cliché, I know but all he had was $40 and a dream for a better future."
Keeping Culture and Traditions Front and Center
Macias celebrates her culture and heritage every day. 
"It's really very simple day-to-day activities," she says. "A few examples are speaking Spanish, cooking authentic meals for my family and by listening to Cumbia music in the morning to get me going." She keeps her culture alive and present within her family by honoring those traditions.

"My family taught me to be a proud Latina, one who embraces her culture and continues traditions by passing down those same principles to my children," she says.
Her favorite family tradition is around Christmas time. 
"Every year for Christmas we make authentic Salvadorian tamales from scratch," Macias says. "It's a two-day process but the reward is far greater than the labor. When you smell the tamales, you know it's Christmas. Kind of like how pumpkin spice equals Thanksgiving." 
Macias adds how family and friends gather in the kitchen, share laughs and stories all while making this time-consuming delicious dish. Now that her children are older, Macias loves that she gets to teach them this tradition and see their willingness to learn.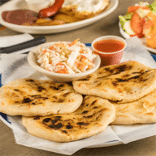 Her favorite Hispanic dish is pupusas. Pupusas are fresh masa stuffed with a combination of meat and a ton of cheese. It's then cooked on a griddle with a little oil until the masa is cooked or until the cheese starts to ooze on the side. Typically, it's served with a pickled cabbage salad and a spicy salsa on top. Macias says these are pure perfection. The family favorite is their go-to meal on Sundays. 
Inspiration from Generations: A Legacy of Compassion in Healthcare 
Macias' grandmother inspired her to pursue a career in healthcare. She was in healthcare for over 30 years and worked at many local hospitals including Our Lady of the Lake, when it was still at its original location downtown. The last position she held before retiring was at a nursing home. 
During most summers she often took Macias to work with her where she witnessed the love and compassion she had for her staff, the residents and their families. She poured herself into her career, all for the purpose of helping others.
"I saw my grandmother's passion and joy and I wanted to experience that same feeling," Macias says. "The basic principles she followed as a healthcare professional was 'treat them like family.' I also have adopted that same principle in my career as a nurse. Each patient I care for, I take care of them as if they are a part of my family. My grandmother taught me that compassion and passion are vital in healthcare and are necessary for longevity in this field. I only hope that I continue to make her proud."
Our DEI Commitment
Our ministry's commitment to diversity, equity and inclusion supports culturally competent care education for our team members all year long, especially during Hispanic Heritage Month each September.