The Neonatal Intensive Care Unit (NICU) at Our Lady of Lourdes Women's & Children's Hospital, Acadiana's only Level III Surgical NICU, has provided exceptional care since 1983.
When a newborn needs round-the-clock specialized care to start life off on the right foot, being close to home — and mom — can make all the difference. Our NICU provides lifesaving medical technology and care not possible in a regular newborn nursery, giving fragile babies their best chance to survive and thrive.
Early Days
In May 1983, the hospital known then as Woman's Hospital of Acadiana was dedicated. The 126,000-square-foot, two-story hospital specialized in obstetrics, gynecology and newborn care.
With 70 private rooms, a well-baby nursery to accommodate 45 newborns and a NICU for 19 premature and other infants requiring specialized care, the $16 million facility also included 10 private labor rooms, three delivery rooms, three operation rooms, a 10-bed recovery unit, pharmacy, radiology, a gift shop and beauty salon.
Surgical Specialization
In December 1998, Kenneth Falterman, MD, Board Certified pediatric general surgeon, moved to Lafayette. He began the growth of pediatric subspecialists full-time on our Women's & Children's hospital campus.
Our NICU obtained Level III Regional Neonatal Intensive Care Unit status in 1999.
Dee Garrett, MD, Board Certified pediatric general surgeon, joined the growing list of specialists practicing at our Children's Specialty center. She practices with Dr. Falterman. With more than 35 years of combined experience, two of our state's 10 pediatric general surgeons are available right here in Acadiana at our hospital.
Our Lady of Lourdes Regional Medical Center acquired the hospital in 2019, when it became known as Our Lady of Lourdes Women's & Children's Hospital.
Our NICU Today
In 2023, our NICU has 51 beds and cares for more than 600 babies each year. We have a dream team of six neonatologists and six neonatal nurse practitioners who are trained in diagnosing and treating newborn conditions. Our NICU provides comprehensive care to premature infants, newborns with medical conditions and newborns who require surgery.
Our specialized programs and services include:
Acadiana's only Level III Surgical NICU
Only hospital in the region to provide exclusive human milk diet to very low birthweight infants
A variety of respiratory support, including high-frequency ventilation and inhaled nitric oxide in the NICU
Neonatologists and other pediatric specialists, including but not limited to, general surgery, neurosurgery, neurology, pulmonology, cardiology and gastroenterology
The area's most experienced NICU Transport Team able to safely "bring the NICU to the baby"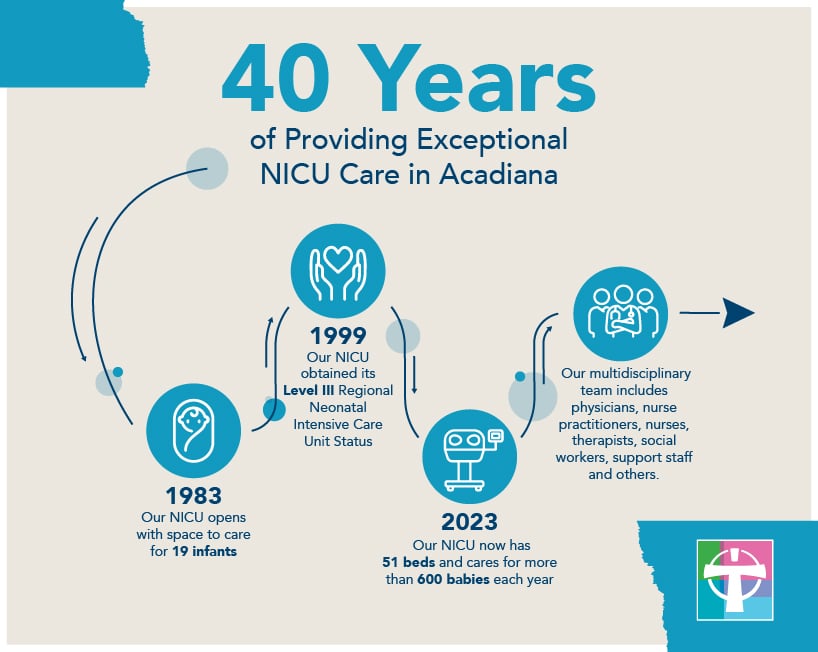 Families Have a Choice
Moms and dads can choose where their newborn receives care. If you are ever faced with this decision, you can choose our high-quality NICU care and keep your family together close to home, which is better for mom, baby and your whole family.
We hope your family never needs a NICU, but it's good to know what's available — just in case. Across our health system we offer access to the highest quality family-centered care:
Greater Baton Rouge and Northshore: Our Lady of the Lake Children's Hospital's Newton & Betsy Thomas Family Center for Newborn & Infant Intensive Care

Acadiana: Our Lady of Lourdes Women's & Children's Hospital's Level III Surgical NICU

Northeast Louisiana: the region's only Level III NICU at St. Francis Medical Center