Make sure your child's car seat is the correct one for their height, weight, and age and that it's properly installed.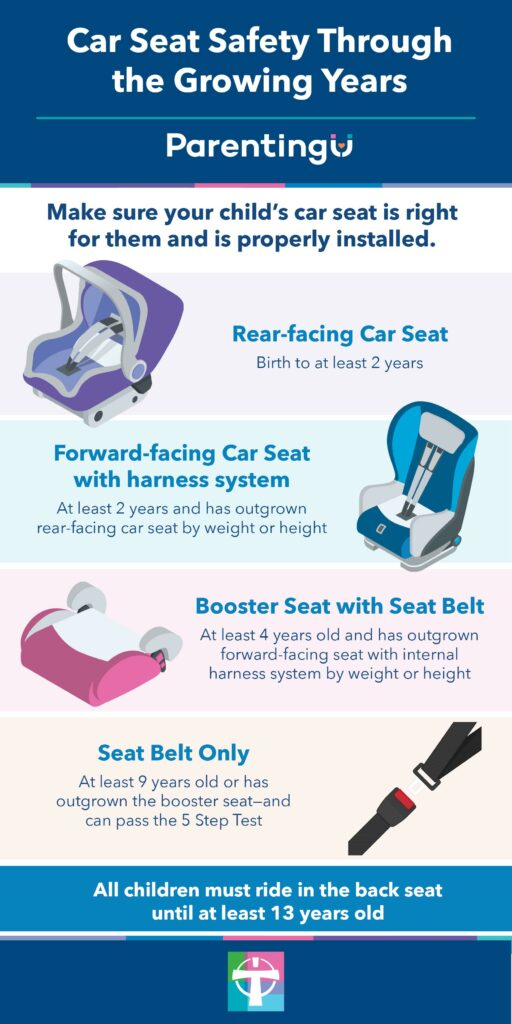 Installation Checklist
More than 59 percent of car seats are used or installed incorrectly. Is your child's car seat installed correctly?
Your car seat is:
Facing the correct direction

Attached to the vehicle using the seatbelt OR the lower anchor connectors

NOT moving more than one inch side to side, front to back at the belt path

At the appropriate angle when rear facing
When your child is in the car seat: 
The harness is at/below shoulders when rear facing and at/above shoulders when forward facing

The harness is lying flat (not twisted)

The harness is snug, meaning you cannot pinch extra material on the harness strap at the shoulder

The chest clip is at the armpit level

Nothing has been added to the car seat that did not originally come with it, such as pads, blankets or head positioners
Car Seat Replacement After a Crash
The National Highway Traffic Safety Administration (NHTSA) recommends that you replace your child's car seat following a moderate or severe crash. A minor crash meets ALL of the following criteria:
The vehicle was able to be driven away from the crash site 

The vehicle door nearest the car seat was undamaged

There were no injuries to any of the vehicle occupants

The air bags (if present) did not deploy

There is no visible damage to the safety seat
Auto insurance may cover the cost of replacing your car seat. Check with your insurance agent to determine if the cost of replacing the car seat can be included in your claim.
More Resources
Visit the NHTSA or the American Academy of Pediatrics websites for more information about car seat safety. A certified child passenger safety specialist can provide help installing your car seat. Find this free service at safekids.org/certification.