Choosing an experienced pediatrician can be one of the most important things you do for your child. From active little bodies to those on the verge of adulthood, the skilled team of physicians at Our Lady of the Lake Children's Health is here to provide exceptional care through every stage of your child's life.


1. Does The Provider Offer Same-day Appointments?

You don't get to schedule when your child will get sick, and an illness can set everyone in the family off course. Our Lady of the Lake Children's Health pediatric clinics offer same-day appointments, online scheduling, and video visits for busy kids and parents.
2. What Are The Options For After-hours Or Emergency Care?
Our Lady of the Lake Children's Health has pediatricians who offer extended hours in-clinic and virtually, plus two hospitals with dedicated pediatric ERs in Lafayette and Baton Rouge for the things that just can't wait. Our Lady of the Lake Children's Hospital is the area's only level 2 trauma unit.
3. Is The Office In A Location That Is Convenient For My Family?
With 22 locations and over 70 providers throughout Louisiana, an experienced pediatrician is just around the corner!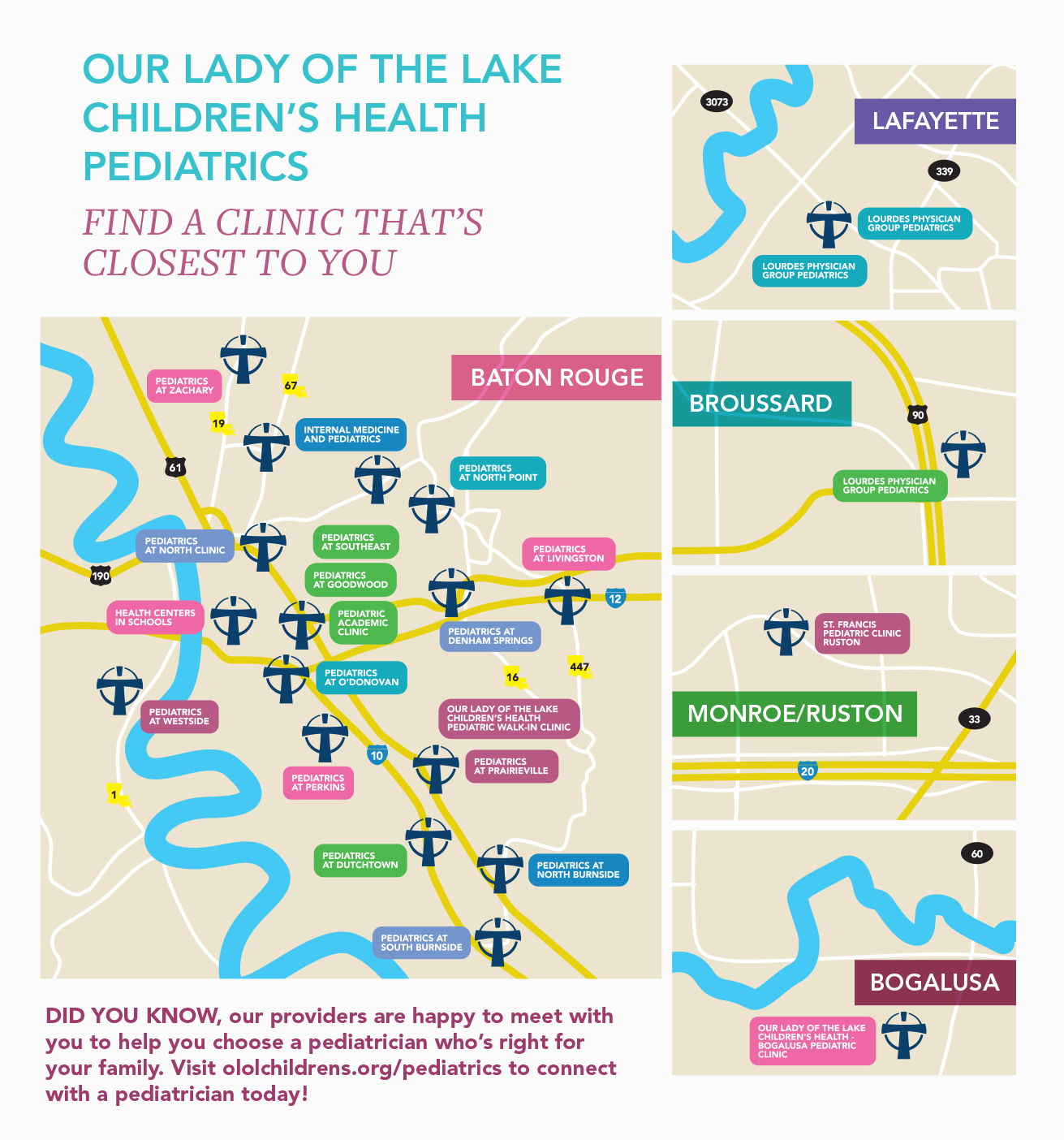 4. Does The Provider Have Access To Local Specialists If We Need A Referral?
When more complicated injuries or ailments call for the help of an expert, our pediatricians are backed by the region's largest network of specialized pediatric physicians, close to home. Our unified electronic medical record allows your pediatrician, specialist, and hospital team to see all your child's information in one place.
5. Is The Provider Recommended By Family And Friends? 
Recommendations from parents are at the heart of everything we do, so ask your inner circle about doctors that they have visited and their past experiences. Endorsements from family and friends are one of the best ways to get an inside scoop on a particular practice and help you get a different perspective!
DID YOU KNOW, our providers are happy to meet with you to help you choose a pediatrician who's right for your family. Connect with a

pediatrician

today!