Every Friday in Lent, Catholics follow the tradition of only eating seafood or otherwise eating meatless meals as a symbolic gesture of abstinence.
But whether or not you adhere to this tradition, the practice of limiting your meat consumption—especially red meat—has many benefits. It's good for your health to include more vegetables and other forms of protein in your diet. Red meat and processed meats have been linked to certain types of cancers and heart disease. And decreasing your portions of meat or rotating in meatless meals throughout the week can help reduce the carbon footprint associated with meat production.
Jen Bays Avis, MEd, LDN, RDN, CDE, a registered dietitian with St. Francis Medical Group, shared some delicious and easy vegetarian and fish options for your Friday meals this Lent—or whenever you want to break the meat monotony.
VEGETARIAN OPTIONS: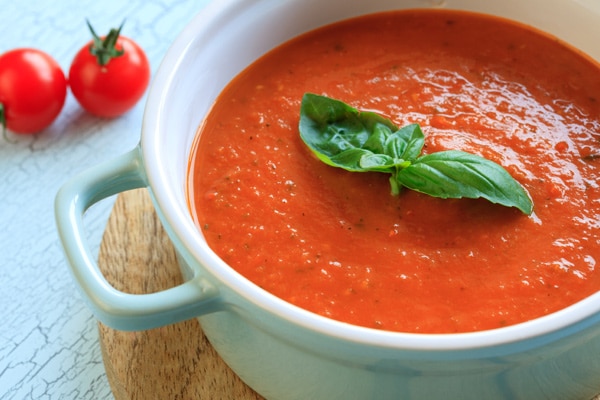 Slow Cooker Tomato Basil Parmesan Soup
Yield: 8 servings
2 (14-ounce) cans diced tomatoes, with juice
1 cup finely diced celery
1 cup finely diced carrots
1 cup finely diced onions
1 teaspoon dried oregano or 1 tablespoon fresh oregano
¼ cup fresh basil
½ bay leaf
4 cups chicken broth
½ cup butter
½ cup flour
1 cup grated Parmesan cheese
2 cups half and half, warmed (substitute milk for fewer calories)
1 teaspoon salt
¼ teaspoon black pepper
Add tomatoes, celery, carrots, onions, oregano, basil, bay leaf and chicken broth to a large slow cooker. 

Cover and cook on low for 5-7 hours, until the flavors are blended and the vegetables are soft. 

If you prefer a chunkier texture, leave the mixture as is or use a hand immersion blender to blend some of the vegetables. Otherwise, add the mixture to a blender and blend until smooth. Return the mixture to the slow cooker. 

About 45 minutes before serving, prepare the roux. Melt the butter over low heat in a skillet and add the flour. Stir the mixture constantly with a whisk for 5-7 minutes. 

Slowly whisk in 1 cup of the hot vegetable mixture. Add another 3 cups and stir until smooth. Add this mixture back into the slow cooker and stir. 

Add the Parmesan cheese, warmed half and half, salt and pepper and stir. 

Cover and cook on low for another 30 minutes or until ready to serve. Serve with warm rolls and a green salad.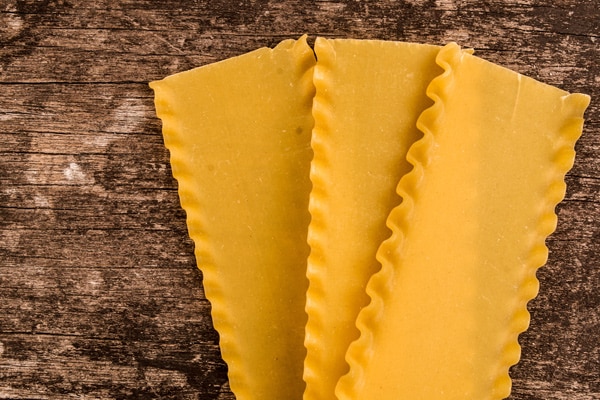 Mexican Black Bean Lasagna
Servings: 6
2 cups chopped onions
1 cup chopped green bell peppers
1 cup chopped red bell peppers
3 garlic cloves, chopped, or ¾ teaspoon garlic powder
2 cups chopped tomatoes
2 teaspoons ground cumin
2 (15.5-ounce) cans black beans, drained and rinsed
4 ounces of canned, roasted chilis
2 tablespoons chopped cilantro
1 (8-ounce) container of sour cream
1 large egg, beaten
1 (16-ounce) bottle of chunky salsa
Cooking spray
12 cooked lasagna sheets
1 ½ cups or 6 ounces shredded Monterey Jack Cheese
Set the oven to 375 degrees and heat a large nonstick skillet over high heat. Add the onion, peppers and garlic and sauté for 6 minutes.  

Add the tomato, cumin, beans and chilis and cook 3 minutes. Remove from the heat and cool for 10 minutes.  

Stir in the cilantro, sour cream and beaten egg. 

Spray a 13-by-9-inch baking pan with the cooking spray and spread a tablespoon of the salsa on the bottom.  

Arrange four of the cooked lasagna sheets overlapping over the salsa and top with half of the bean mixture, half a cup of the cheese and three more tablespoons of salsa. 

Repeat the layers, ending with the lasagna sheets. Spread the remaining salsa over the pasta and sprinkle with the remaining half cup of cheese. 

Cover and bake in the pre-heated oven for 30 minutes. Uncover and bake an additional 15 minutes, or until the cheese melts. Let stand for 5 minutes before serving.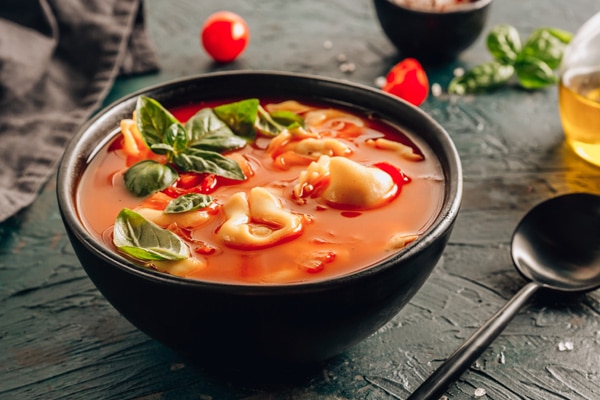 Tortellini Soup
1 tablespoon olive oil
3 carrots, diced
2 celery stalks, diced
1 small onion, chopped
2 teaspoons minced garlic, or ¼ teaspoon garlic powder
½ teaspoon dried thyme
½ teaspoon dried basil
1 teaspoon Greek seasoning blend or oregano
Salt and pepper to taste
1 (15-ounce) can diced tomatoes with juices
4 cups vegetable stock
10 ounces cheese tortellini
1 cup baby spinach
Grated Parmesan cheese for topping
In a large pot, heat the olive oil over medium-high heat and sauté the carrots, celery and onions until tender.

Add the garlic and seasonings and sauté until fragrant, 1 minute.

Add the diced tomatoes and vegetable stock and stir.

Add the tortellini and cook according to the package directions. 

In the last minute of cooking, add the fresh spinach and stir.  

Divide into bowls and sprinkle with the Parmesan cheese.  
Note: Recipe was taken from this Weight Watchers-friendly recipe.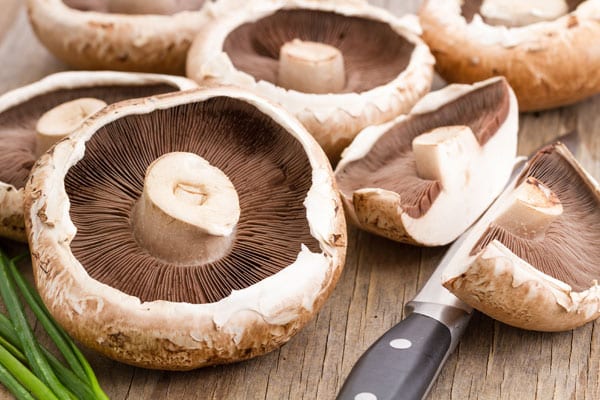 Portobello "Steak" Sandwich
2 tablespoons butter
2 tablespoons olive oil
3 medium onions, thinly sliced
1 ¼ pounds portobello mushrooms, stems on and cut into ¼-inch thick slices (5-6 large portobello mushrooms or 24 ounces of baby portobello mushrooms)
¼ cup steak sauce (such as A-1)
1 loaf French bread, cut in half lengthwise
8-ounce package sliced provolone cheese
In a large skillet over medium-high heat, melt the butter and add the olive oil.  

Sauté the onions for 8-10 minutes, or until they begin to caramelize. Remove to a bowl. 

Add the mushrooms to the skillet, reduce heat to medium and cook for 3-5 minutes or until softened, turning once. Return the onions to the skillet, add the steak sauce and stir.  

Preheat an oven to broil. Divide the mushroom mixture evenly over the bread halves, top with cheese, and place on a baking sheet. 

Broil a few minutes, or until the cheese is melted and the top is golden brown. 

Remove from the oven and use a serrated knife to cut diagonally into 6 equal portions. Serve immediately.  
FISH OPTIONS: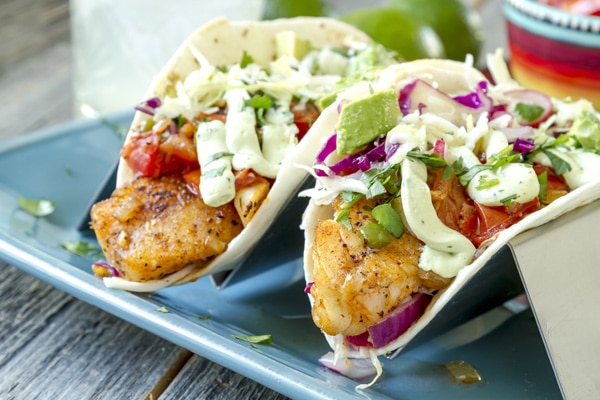 Grilled Fish Tacos
For the dressing:
8 ounces light sour cream
½ cup adobo sauce from chipotle peppers
2 tablespoons fresh lime juice
¼ teaspoon cumin
¼ teaspoon chili powder
¼ teaspoon Old Bay seasoning
Salt and pepper to taste
Combine the sour cream and adobo sauce in a bowl. Stir in the lime juice, cumin, chili powder and Old Bay.  

Add the salt and pepper to taste. Cover and marinate for at least 30 minutes.  
For the fish:
¼ cup olive oil
2 tablespoons white vinegar
2 tablespoons fresh lime juice
1 ½ teaspoon honey
2 cloves garlic, minced, or ½ teaspoon garlic powder
½ teaspoon cumin
½ teaspoon chili powder
1 teaspoon Old Bay seasoning
½ teaspoon ground black pepper
1 teaspoon hot sauce
1 pound tilapia, catfish or cod filets
1 (10-ounce) package tortillas
Wisk together the olive oil, vinegar, lime juice, honey, garlic, cumin, chili powder, Old Bay seasoning, black pepper and hot sauce in a bowl until blended.  

Place the fish in a shallow dish and pour the marinade over it. Cover and refrigerate for 6-8 hours.
For the toppings:
3 ripe tomatoes
1 bunch cilantro, chopped
1 small head purple cabbage, thinly shredded
2 limes, cut into wedges
To assemble:
Heat an outdoor grill to high heat and lightly oil the grates. Make sure the grate is about four inches from the fire. 

Grill the fish pieces until easily flaked with a fork, turning once.  

Place the fish pieces in the center of a tortilla along with the desired amounts of tomatoes, cilantro and cabbage. Drizzle with the dressing.  

Roll up the tortilla around fillings and garnish with lime wedges.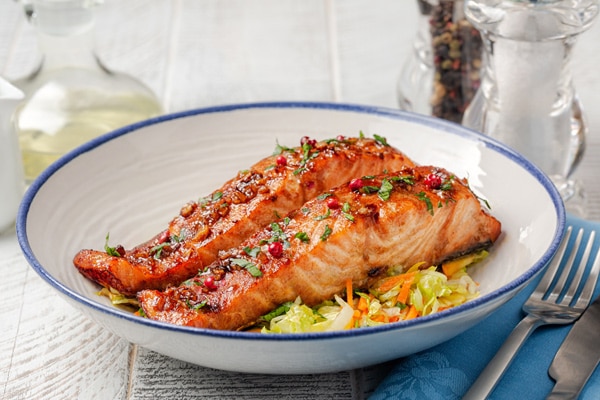 Honey Glazed Grilled Salmon
Yields: 4 servings
4 salmon filets
1 tablespoon honey
1 tablespoon olive oil
1 tablespoon soy sauce
¼ teaspoon garlic powder
½ teaspoon dried dill weed
Juice of 1 Cutie or Halo orange
Place the salmon filets in a pie pan or any pan of your choice.

Mix the remaining ingredients and pour over the filets.

Allow the filets to marinate for at least 30 minutes.

Heat a grill and cook the filets, only turning once. 
Note: A Weber grill cooks the filets for about four minutes on either side.
Looking for more ideas to eat well? Check out these other blog posts.