It can be hard to listen to your heart if your stomach is growling too loudly. Nourishing your body well is an important part of keeping your heart healthy.
Jen Bay Avis, MEd, LDN, RD, CDE, outpatient dietitian at St. Francis Medical Center, shares some heart-healthy recipes; two that will make great dinner options and two to tempt your sweet tooth while sticking to your nutritional goals.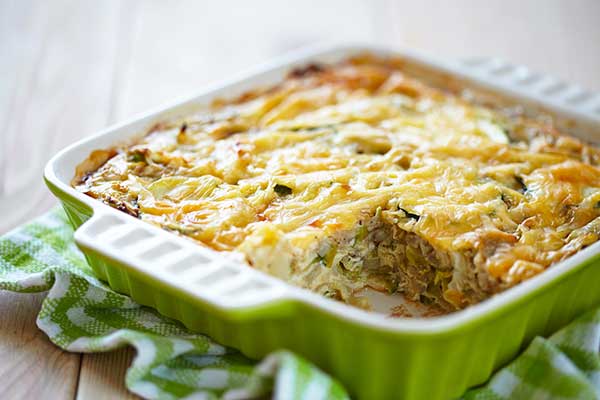 Easy Cabbage Casserole
1 head of cabbage or 2 bags of angel hair shredded coleslaw mix

1 pound ground meat (93/7), deer meat or turkey meat 

Chopped onion

Seasonings: garlic, black pepper, 1/2 teaspoon dried dill weed, 1 teaspoon beef base (no need to add salt when using beef base)

1 large (28 oz) can of diced tomatoes 

1/4 cup fresh grated Parmesan cheese

Place the cabbage or coleslaw mix in the bottom of a 9×13 pan
Brown the meat with onions and seasonings. Pour meat mixture over the cabbage.
Season the tomatoes with garlic, black pepper and additional dill weed to taste. 
Pour that over the meat, cover with aluminum foil and bake 1 hour at 375 degrees.
Sprinkle with Parmesan cheese after the mixture has cooked for 1 hour and allow to cook for additional 5 minutes. 
This can be made ahead of time, refrigerated and baked the next day.  
Nutritional information for different meat choices based on six generous servings:
Meat Calories Carbs/Fiber Fat/Saturated Fat Sodium
93/7 Ground Beef: 199 28 gm 7gm/5 gm 7.0 gm/3.5 gm 206 mg
Ground Turkey: 175 21 gm 7gm/5 gm 7.0 gm/2.0 gm 250 mg
Ground Deer Meat: 123 24 gm 7gm/5 gm 3.0 gm/1.5gm 193 mg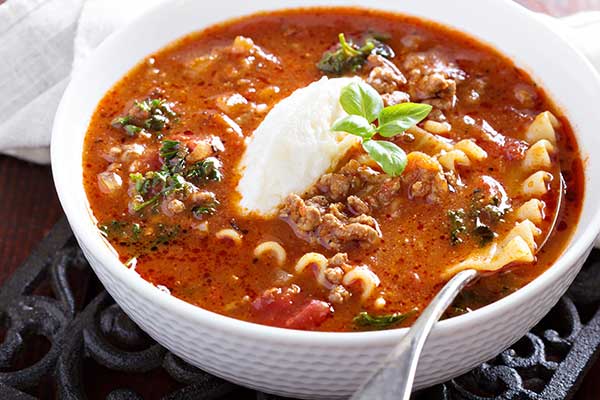 Lasagna Soup
Serves 4 – 6 as an entrée
8 ounces lasagna noodles with curly edges, broken into pieces

12 ounces grass-fed beef, get the lowest fat available, or deer meat

12 ounces Italian sausage, bulk sausage

1 teaspoon dried oregano, lightly crushed

1 small onion, finely chopped

4 cloves of garlic or 1 teaspoon granulated garlic

1 quart chicken stock

1 28-ounce can of whole tomatoes

2 cups tomato purée

A few leaves of fresh basil, torn

1 cup fresh ricotta

1 cup freshly grated Parmigiano Reggiano cheese or fresh grated Parmesan cheese

1/4 cup mascarpone cheese

Fresh parsley for garnish
Bring a large pot of water to a boil. Cook lasagna noodles approximately three minutes shy of the total cooking time recommended on box directions. 
In a soup pot, add cook meat until done. Add seasonings, onions and garlic. Cook approximately five minutes. Add chicken stock and whole tomatoes. Use a spoon to smash the tomatoes. 
Cook approximately 15 minutes until flavors meld. 
Add the noodles to the soup. Allow to cook until al dente.
In a medium bowl mix the ricotta, Parmesan and mascarpone cheeses. Season with a little black pepper.
Serve in soup bowls. Top each serving with a dollop of the cheese mixture. Optional: garnish with parsley. 
Nutritional information based on 1 cup serving with 1 tablespoon cheese:
Meat Calories Carbs/Fiber Fat/Saturated Fat
Grass-fed Beef: 225 Cal, 15 gm Net Carb, 11 gm fat/5 gm SF
Deer Meat: 214 Cal, 15 gm Net Carb, 9.5 gm fat/4.5 gm SF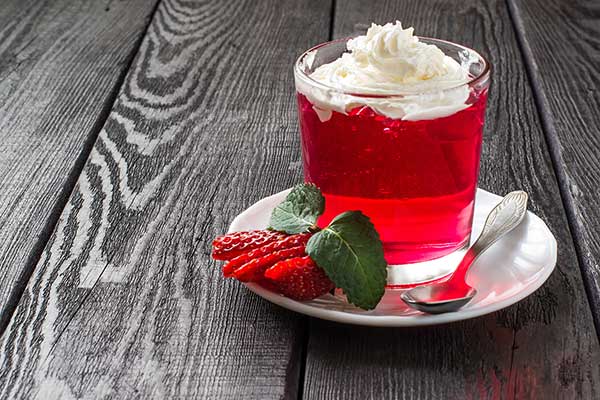 Crown Jewel
Four packages diet Jell-O – any flavor you prefer

8 oz Cool Whip
Make up three of the flavors separately and pour into pie pans to congeal. Cut into cubes once firm. Make up the fourth flavor of Jell-O mix with 1 cup hot water and for the cold-water substitute 1 cup ice.  When the mixture begins to gel, fold in the Cool Whip and cubed Jell-O.
This is a free dessert or snack, which means it has very little calories and practically no carbohydrates and can be freely enjoyed even by someone with diabetes. 

Chocolate Smoothie
This smoothie makes a great meal replacement.
1 scoop chocolate-flavored whey protein powder, such as Muscle Tech (20 grams protein per scoop) 

1 tsp. Hershey's cocoa powder

½ cup coconut milk, such as Silk, which can be found in grocery stores

¼ cup spray whipped cream
Blend whey protein powder, coconut milk and cocoa powder in a high-quality blender. Add 2 cups of ice and blend completely. Pour into glass and spray approximately 1/4 cup of whipped cream on top. 
Vanilla Smoothie variation: Use French vanilla protein powder in place of chocolate-flavored protein powder and vanilla flavoring in place of the cocoa powder.
Nutritional information per smoothie:
190 Calories
15 grams of carbohydrates
20 grams of protein
3.5 grams of fat 
Protect your heart — and your overall health — with an annual checkup with a primary care provider. Connect with one here.