Delicious food that's good for your heart health also can be easy to prepare. If you're looking for inspiration, you've found it!
Louisa Whitmire, RDN, LDN, health coach and dietitian at St. Dominic Hospital, shares suggestions for each meal of the day, but don't limit yourself. Any of these recipes would be great to eat any time.
Breakfast Ideas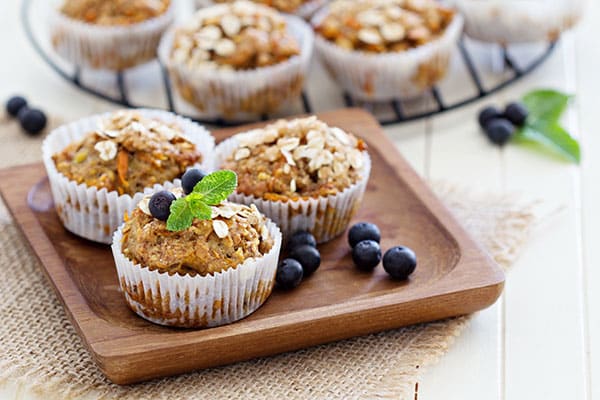 Four Ingredient Blueberry Banana Muffins
Ingredients:
3 cups old-fashioned oats
¼ cup almond milk or regular milk
5 average-sized bananas
1 cup blueberries
Directions:
Preheat oven to 350 degrees.
Lightly grease a muffin tin.
In a food processor or blender, combine all four ingredients and mix at medium speed until thick and creamy. Do not over mix.
Fill the muffin tins and bake for 18 – 20 minutes. Use a toothpick to test the center. If it comes out clean, they are done. If not, add another minute or two.
These are healthy muffins and meant to provide nutrition. They are nothing like average flour muffins and are very heavy and filling.
Nutrition information per serving:
3 oz (3 muffins): 239 calories, 4.7g protein, 61g carbohydrate
 
Feta and Spinach Scramble
Ingredients:
3 egg whites
2 cups spinach
1 Italian tomato, chopped
¼ cup chopped onion
¼ cup crumbled feta cheese
Salt and pepper to taste
Directions:
Chop onion and tomato. Spray pan with cooking spray and put on medium heat. Cook onions until they are translucent.
Add 3 egg whites, tomato, spinach and cook until cooked through.
Just before you are ready to take the pan off the heat, take ½ of the feta cheese and throw in the pan to melt.
Top the dish with the remaining crumbled cheese and salt and pepper to taste.
Nutrition information per serving:
200 calories, 9g fat, 615mg sodium, 13g carbohydrate, 3g fiber, 18g protein
Lunch Options

Five Ingredient Soup
Ingredients:
1 can fat-free chicken or vegetable broth
1 can corn, drained and rinsed
1 can black beans, drained and rinsed
1 can fat-free refried beans
1 can no-salt added diced tomatoes
Directions:
Combine all the ingredients in a medium saucepan, whisking together to integrate the refried beans. Simmer, then serve. Garnish as desired with sour cream, avocado or green onions.
Nutrition information per serving:
128 calories, <1g fat, 495mg sodium, 25g carbohydrate, 8g fiber, 7g protein

Grilled Chicken Pesto Wraps
Ingredients:
1 tsp garlic, minced
¾ cup fresh basil
2 Tbsp Parmesan cheese, grated
1 tsp water
2 Tbsp pine nuts
2 ½ cups boneless skinless chicken breast, cooked & shredded
6 large tortillas
Nonstick cooking spray
Directions:
In a food processor, combine garlic, basil, Parmesan cheese, water and pine nuts, pulsing until almost smooth.
Transfer to a large mixing bowl and add chicken.
Evenly divide mixture between tortillas. Fold wraps burrito style.
Lightly spray skillet with nonstick cooking spray and heat to medium.
Place wraps in skillet, fold side down and cook until golden brown. Flip and cook the other side.
Repeat with remaining wraps. Cut in half before serving.
Freezing Directions:
Prepare per above directions. After cooking, allow wraps to cool completely. Tightly wrap each in plastic wrap and divide between gallon freezer bags, label, and freeze. TO SERVE: Reheat in microwave for 1-2 minutes, until warmed through.
Nutritional information per wrap:
185 calories; 4.8g fat, 13g carbs, 1g fiber, 20g protein
Dinner Options

Chicken and Vegetable Bake
Ingredients:
Skinless chicken breasts chopped into 2-inch cubes
½ cup chicken broth
1lb red potatoes chopped into 2-inch cubes
½ bunch asparagus, trimmed and cut into 1-inch pieces
Red and yellow peppers sliced into 1-inch pieces
1 onion, sliced
1/3 cup fresh basil
4 garlic cloves, sliced thin
1½ Tbsp olive oil
1 tsp fresh chopped rosemary
Ground pepper to taste
Directions:
Preheat the oven to 400 degrees.
Add chicken, potatoes, vegetables, basil, garlic, chicken broth, and olive oil together in a casserole dish.
Sprinkle with rosemary and pepper if desired.
Bake for approximately 45 minutes, turning occasionally until tender.
Nutritional information per 4 oz serving:
300 calories, 28g protein, 8g fat, 10g carb

One Pan Baked Salmon & Vegetables
Ingredients:
Salmon filets (4 small)
Roasting vegetables (green beans, tomatoes, asparagus, and/or broccoli)
Olive oil
Lemon, garlic & herb butter (you could make this yourself or purchase already infused)
Salt
Directions:
Place the salmon filets, skin side down (if there's any skin), in the middle of a 9×13 baking pan.
Put vegetables on each side of the salmon.
Drizzle olive oil over the vegetables and sprinkle with salt to taste.
Add approximately 1 tablespoon of a lemon, garlic & herb butter on top of each salmon filet.
Bake at 400 degrees for approximately 20 minutes (or until salmon is cooked through).
That's it! Just one dish to clean, a few ingredients, and less than 30 minutes of time total! A grain-free, low-carb, super delicious dinner!
Nutritional information per 4 oz serving (one filet):
220 calories, 28g protein, 7g fat, 15g carb
Keep the beat and listen to what your heart is telling you. Protect your heart—and your overall health—with an annual primary care checkup.

Connect with a PCP here

.