Several factors increase a person's risk of having a stroke, and age is the biggest.  
Stroke risk increases as a person gets older, but strokes can – and do occur at any age, including children.  
Ashok Reddy Polu, MD, vascular neurologist and neurohospitalist with Our Lady of the Lake Health and The NeuroMedical Center Clinic, shares more about stroke risk and why receiving care from an accredited team makes a difference.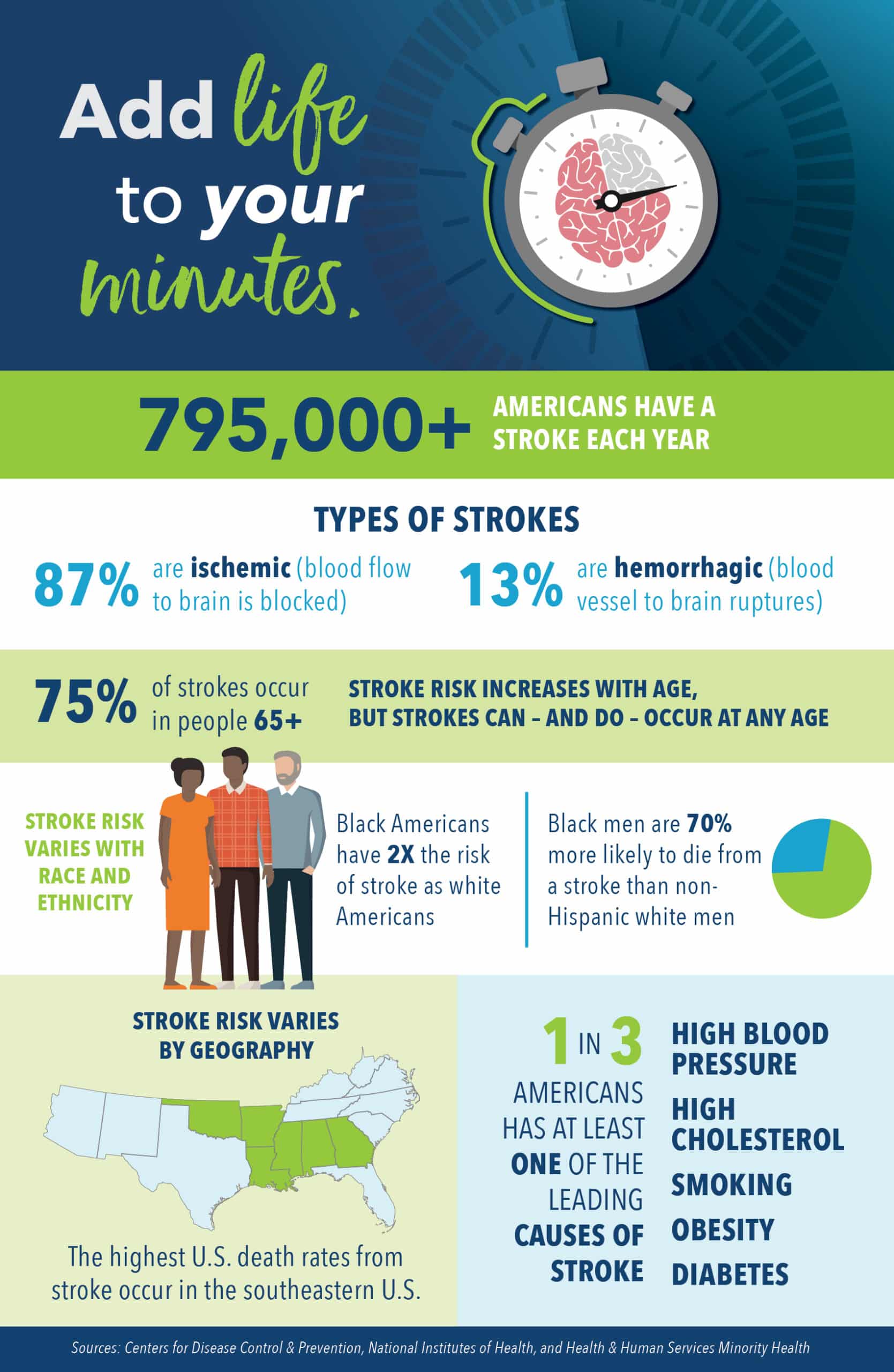 Beyond Age: Ethnicity, Gender and Family History
In addition to age, other factors that can increase the risk of stroke include ethnicity, gender and family history. 
Americans of Black, Hispanic and Asian descent have a higher risk of stroke than other groups. Men are more likely to have a stroke, although women are more likely to die from stroke. 
Family history plays a role in stroke risk. People with a close relative, such as a parent or sibling who has had a stroke, have an increased risk of stroke. 
Other vascular risk factors such as high blood pressure (hypertension), diabetes, high cholesterol and heart disease can also increase a person's risk of stroke. 
The Stroke Belt
Geography also plays a part in stroke risk demographics. Louisiana and Mississippi are located in the southeast U.S., which is commonly referred to as the "stroke belt" because of the higher incidence of stroke when compared to other parts of the country. 
Some possible causes include higher rates of smoking, obesity and hypertension and lower levels of education and income, which leads to less access to healthcare and stroke risk factor treatments. Screening for and addressing these social determinants of health is a standard part of the care provided by our health system. 
Addressing this higher incidence of stroke in Louisiana and Mississippi will require sustained effort and collaboration across multiple sectors including healthcare, public health and community development.  
Stroke Care at Our Lady of the Lake Health
We provide high-quality stroke care and our team has met certain criteria set by national accrediting organizations.  
Specifically, Our Lady of the Lake Regional Medical Center has been designated as a Primary Stroke Center with thrombectomy capability by The Joint Commission, which is the second highest level of stroke certification available. 
Across our health system, St. Dominic Hospital is a Comprehensive Stroke Center of Excellence, which is the highest level of stroke certification available. Our Lady of Lourdes Regional Medical Center is also a Primary Stroke Center of Excellence. 
These designations mean our stroke centers have the resources, expertise and infrastructure to provide the highest level of care to patients who have experienced a stroke or are at risk of having a stroke. 
Partnership with The Neuromedical Center
Our Lady of the Lake Health has partnered with The Neuromedical Center Clinic, a professional multispecialty physician group that includes two highly qualified vascular neurology-trained physicians, Dr. Polu and Gary J. Walker, MD.  
Together Dr. Polu and Dr. Walker work at our hospital as neurohospitalists actively caring for our complex stroke patients. They are the only vascular neurologists providing this high-level care in Baton Rouge. 
This partnership is an example of healthcare providers working together to improve patient outcomes and provide the best possible care for those most in need. 
Learn more about your own risk of stroke by speaking with a primary care provider. Connect with one of ours here. 
In addition to his work with Our Lady of the Lake Health and The NeuroMedical Center Clinic, Dr. Polu teaches residents in training, is an assistant professor with LSU, diplomate of the American Board of Psychiatry and Neurology and a member of the American Board of Medical Specialties.