Louisiana summers are relentless, but Acadiana families have a brand-new respite, Our Lady of Lourdes Interactive Water Adventure at Moncus Park.
The $1.5 million outdoor gift from Our Lady of Lourdes to Acadiana's families is specially designed to meet the wants and needs of the community—an incredible place for children to play and cool off.
The 5,100 square-foot interactive water adventure centers around Gracie, a 22-foot alligator sculpture staring at a pirogue play structure. 
Gracie has 11 "breathing" water arches for her abdomen, and the pirogue shakes, creating "waves" made with 42 custom jets, even though this feature has no standing water. Throughout the large wet deck, another set of 24 jets shoot up water that mimic bald cypress knees.
Every night at 5 p.m. 35 LED lights light up the area, adding a rainbow effect to Gracie's abdomen and all other water sprays.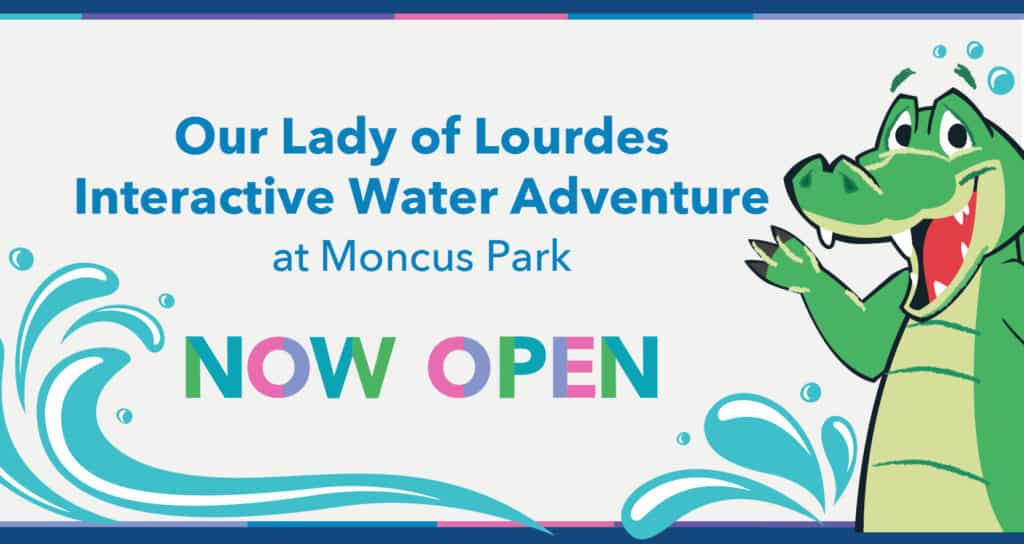 The interactive water feature was designed by Fluidity Design Consultants, a global leader in water feature design out of Los Angeles founded by Jim Garland, a graduate of University of Louisiana Lafayette.
Families won't want to miss a trip to Moncus Park in Lafayette to take part in this adventure. Wear your bathing suit and bring your towel!