As a high-risk pregnancy, I thought I was prepared for everything, but I was thrown a curveball when I had to stay in the hospital much longer than my newborn. It was a very scary time, but thankfully my family had a wonderful support system to see us through. It literally took a village to successfully breastfeed Liam.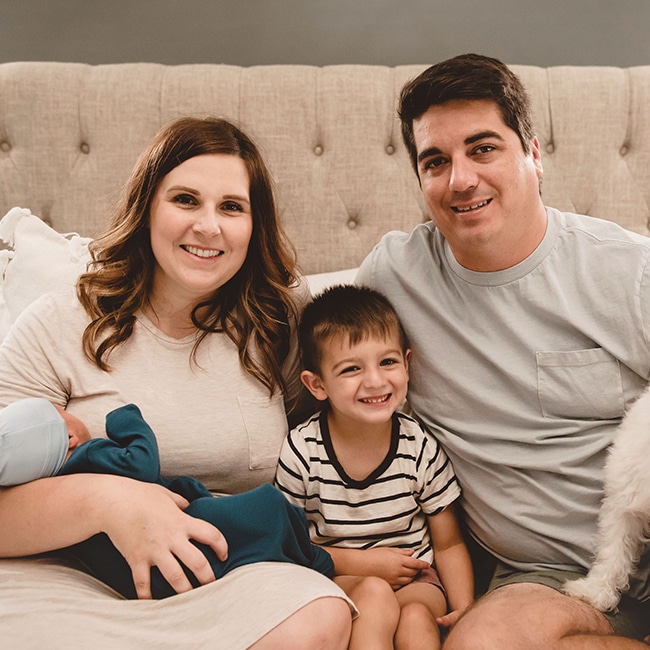 Everything that was important to me with my second child's delivery was honored.
My husband, Grant, our older son, Luke, and I welcomed Liam on June 17, 2019, born at Our Lady of Lourdes Women's & Children's Hospital.
Fertility Journey
I had polycystic ovarian syndrome (PCOS) that made getting pregnant more difficult. After having my IUD birth control removed it took about six months before I found out I was pregnant for the second time.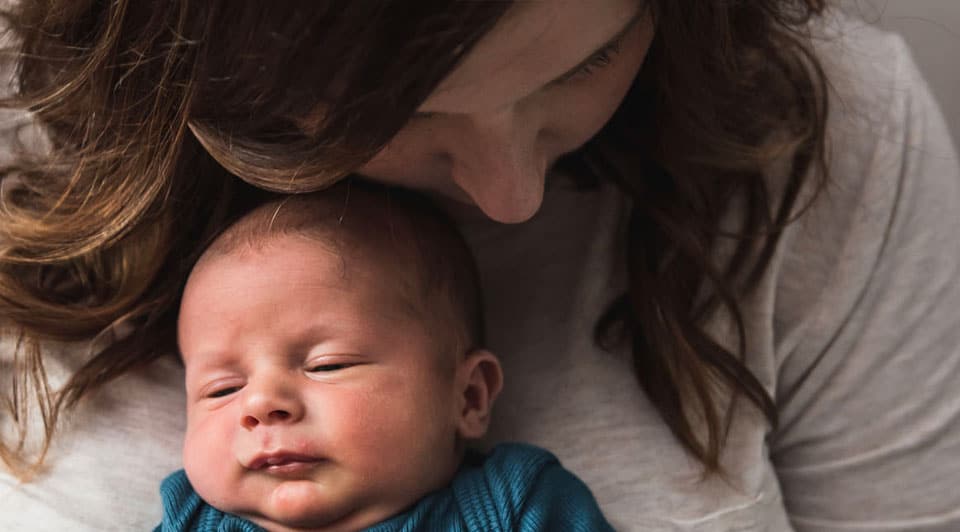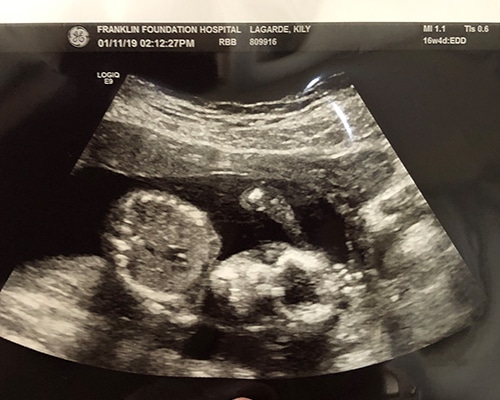 Careful Monitoring
My road to delivery included Maternal-Fetal Medicine, and my high-risk pregnancy was monitored closely.
My uterus was bicornuate, meaning heart-shaped. The rare, congenital condition had been treated with surgery when I was 19, well before my children were born. Unfortunately, the condition kept my uterus from stretching as it should and created a uterine window, a weakness in the uterine muscle.
I'd get pains similar to contractions starting very early on in pregnancy, and I had to learn what it was. I had to be aware of it, listen to my body and figure out if it was a true contraction or just baby pushing on a weak part that causes pain and tightness.
Dealing with Pregnancy Symptoms
Heartburn plagued me with this pregnancy. I had heartburn for two weeks before I found out I was pregnant. It was terrible, can't-even-lay-down-in-the-bed heartburn that continued until after I delivered. Prescription medicine helped but didn't eliminate the heartburn.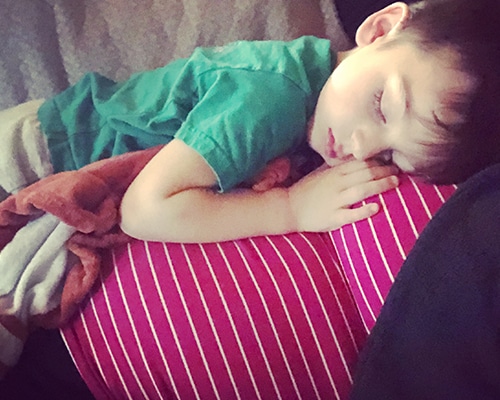 I didn't realize it, but it was eating the enamel on my teeth. Regular dental visits are important during pregnancy, especially if you're having very bad heartburn.
Morning sickness was also a miserable experience for me, and I was nauseous every morning until about 32 weeks of pregnancy. I focused on getting better sleep, which seemed to help, and I felt a lot better in the home stretch.
I maintained a healthy diet and focused on hydration, keeping my weight gain minimal. Tacos and other Mexican food flavors were my main craving, and even now Grant doesn't want to eat tacos since we ate so many while I was pregnant with Liam.
My second pregnancy was a lot different my first, I listened less to well-meaning advice from others. You really don't know what's going to happen and it's really important to listen to your body.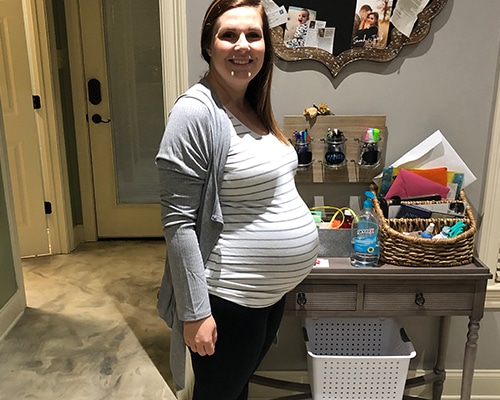 According to Plan
Knowing my body and listening to my provider's advice, we scheduled a C-section.
When my first son, Luke, was born at another hospital, I was so sick and vomiting that I was absolutely miserable during that birth. I knew I wanted something different for my second delivery.
Midway through my pregnancy at one of my normal checkup appointments I'd asked my doctor about the things that were important to me and asked if we could make them happen. Preparing a birth plan included a request for clear drapes that would allow me to see the birth and immediate skin-on-skin contact as long as baby's stats were good.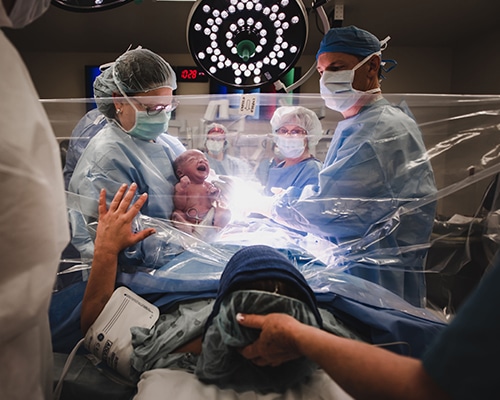 With those wishes made known and agreed to, Grant and I had to decide when to schedule the C-section. My uterus couldn't handle labor. I listened to my gut and waited until 39 weeks, and Liam was born perfectly fine at 7 lb. 14 oz.
I was completely present and pumped to see my baby be delivered right in front of me. My nurse held up my back and neck so I could see when they pulled him out. I got to witness all of that and not be sick and miserable the whole time. It was really great.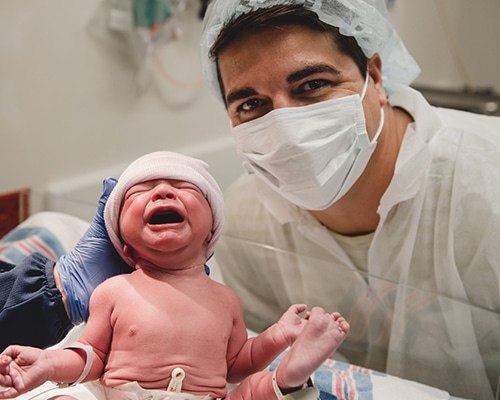 It's a Boy!
Because we didn't find out Liam's gender before he was born, his birth day included that joyful surprise. I had packed two coming home outfits, one for a girl, one for a boy, and everything else was gender neutral gowns.
I thought I was having a girl, and Isla was the name we'd picked out. A friend had delivered a son Jack a few days before, which was the boy name we had planned to use. So we had to meet Liam before choosing his name.
When the Unexpected Happens
Liam was discharged before me, which created logistical problems for our family. I'd had an allergic reaction to the betadine that was used during surgery, but it took some time to figure out what was happening.
I felt supported during this scary time. Every nurse that I had was very compassionate and understanding, especially when they were ready to release Liam and I was still stuck there. I struggled a lot and they were very supportive and caring in that situation.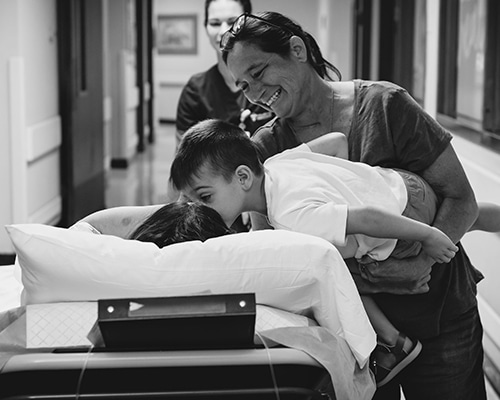 After I was able to go home too, when Liam was about a week and a half old, I began having a fever and incision issues. I ended up having a procedure to remove the remaining placenta that didn't pass as it should have after Liam was born.
I was in the hospital for weeks and ended up having a hysterectomy about two months after Liam's birth. We were done having kids, so it ended up being a good thing for me.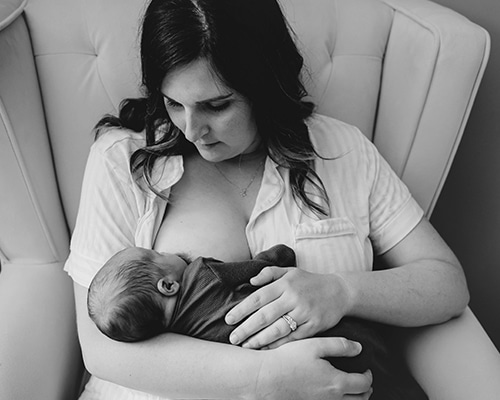 Overcoming Medical Challenges to Breastfeed
I breastfed my first son, Luke, for more than two years and was determined to have a similar breastfeeding experience with my second child. The lactation support at Our Lady of Lourdes Women's & Children's Hospital was valuable, especially as I had to be on medications to treat my own complications.
It was a combination of the lactation specialist and the doctor advocating for the correct medicines to work with breastfeeding. Lactation support also helped physically when I was so sick.
I can remember laying there feeling so bad, and between lactation and my husband they were holding the baby and my boob and helping me nurse. I was just so out of it and tired, feeling defeated. They kept me going. Because Liam wasn't admitted, he couldn't stay in the hospital unless Grant was also there. I would pump milk during the day to send home for the night. And the hospital team was very accommodating to honor my wishes to breastfeed.
Through the Fourth Trimester
Even as I recovered from my complications, I was worried about Luke, who was 4, but even from day one he was OK. Many people stepped in to help us manage during that transitional season.
We're close with my husband's family as well as my family. Our whole village stepped up when we needed to give baby extra time in those first weeks.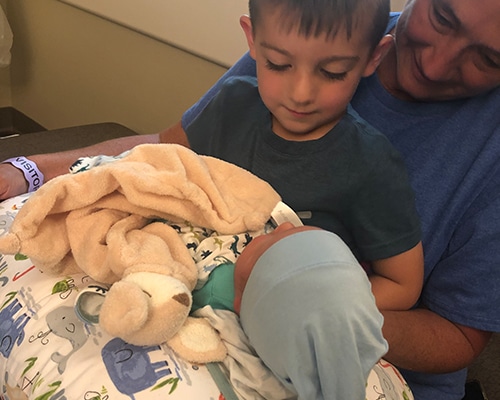 Your birth journey. Your voice.