Our fourth child, Weston, is a blessing that we didn't see coming, and his birth was truly a miracle.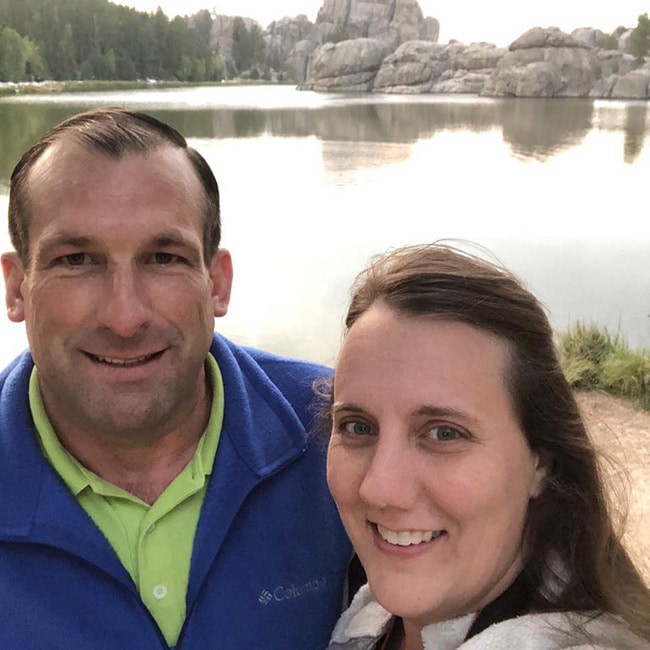 When I got pregnant this time, I didn't expect to have my baby at St. Francis Medical Center. Although I was born there and grew up in Monroe, my family and I live about 10 miles over the state line in Arkansas now.
My pregnancy was a pretty big surprise. My previous pregnancies all required fertility assistance, so I never thought a fourth child was in the cards for us. My older children are 17, 16 and 12, and my then-10-year-old began praying for a little brother.
Weston was born October 1, 2021, after only 24 weeks and three days gestation, at St. Francis Medical Center. His first 102 days were spent in the neonatal intensive care unit (NICU).
Sudden Complications
I loved being pregnant, but my body doesn't handle pregnancy well. I have an incompetent cervix, which means every pregnancy around 12 weeks a cerclage, or stitch, reinforces the cervix, keeping it closed so I can carry the pregnancy to term and the stitch is removed when it's time to deliver.
At 24 weeks of my pregnancy with Weston, I started having discharge, but we weren't sure at first if it was amniotic fluid. I went to our local hospital here in town, expecting to be briefly monitored and sent home. I'd even left my phone with my kids at home and only had my wallet with me. My brother and sister-in-law were able to come take care of our older kids once we realized things were serious.
It turned out my water had broken and was slowly leaking. In the several hours we were at the small hospital I watched the clock and knew I was having contractions that got down to two minutes apart. This was my fifth pregnancy, the first was a twin loss at 17 and a half weeks before we knew about my incompetent cervix. So I knew what to expect and what was happening to my body.
A Terrifying Trip
Deciding where to go for higher-level care took some time, but once we were seen by a doctor we were gone in 45 minutes. One option was for a NICU team from Little Rock to come to us since there were no beds for both me and Weston there. However, St. Francis had space for both of us and the expertise to care for us both.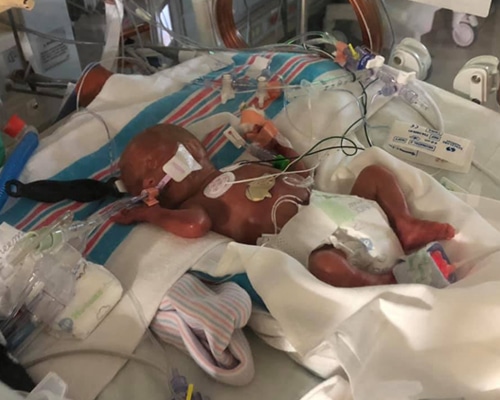 Looking back, I can see God orchestrating Weston's birth, and I know if we'd made another choice neither of us would have survived. A normal trip from Crossett to Monroe is well over an hour, but that day we left our local hospital by ambulance and Weston was born only 59 minutes later at St. Francis. That time included an ultrasound to check Weston's position and the NICU team and other specialists getting in place for the birth.
About halfway through the trip my placenta ruptured, and my blood pressure plummeted. I'd been hemorrhaging, and it was truly a dire situation when we arrived. I was prepared for chaos during the actual delivery, but once everyone was in place Weston was out in about two pushes.
Weston came out trying to breathe. He was 1 lb. 12 oz. and 12 and 3/4 inches long. He was the tiniest little thing.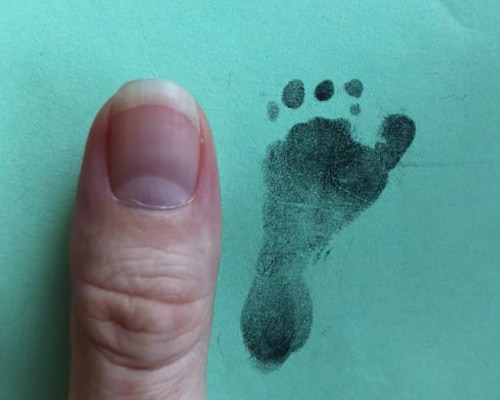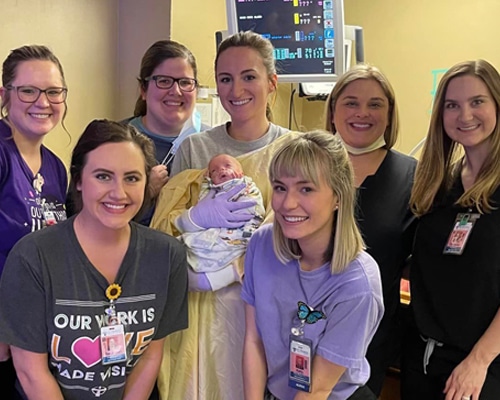 Becoming a NICU Family
Once Weston was born my health and blood pressure stabilized quickly, and I was fine. We had several people from the hospital tell us "you don't realize how close we came to losing both of y'all." I ended up staying for three days as a patient because Weston was so critical so we could be close to him.
By day two or three my milk came in and I was able to pump and supply milk for Weston in the NICU. It was a much different experience from breastfeeding our older three kids, which was something I enjoyed and never had trouble doing. But it was a totally different ball game to exclusively pump for a baby I couldn't touch until he was two weeks old. We overcame all the challenges and ended up combo pumping and nursing for 13 months. He only recently weaned.
During his stay in the NICU, Weston had seizures, brain bleeds and was septic. He wasn't expected to be able to communicate, run or play like other kids. We were asked to consider signing a do not resuscitate order when he was six days old.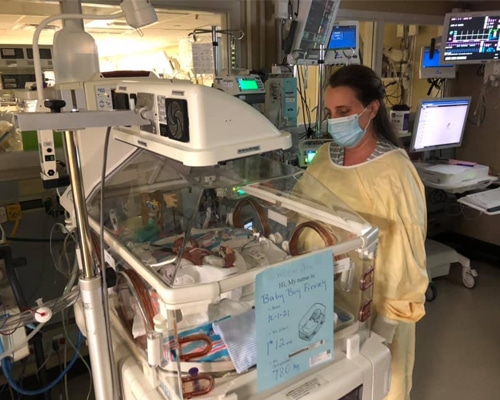 I could not sign it that day. I just told God, "You brought this baby, and I don't know what the purpose is, but I want my kids to see a miracle. I will learn whatever I have to to care for a medically fragile child, and I really want you to touch my baby." Weston never had to have a shunt, and his brain bleeds dried up on their own. I feel like God has a purpose for Weston's life, and I can see the hand of God guiding us through the whole process.
When we had to be transferred to another city for laser eye surgery, which is a typical complication for micro-preemies, we asked that Weston return to St. Francis NICU afterward for the rest of his care. He came home from Monroe.
Bittersweet Transition
Weston was originally due on January 18, and we were able to bring him home on January 11 after 102 days in the NICU at St. Francis. He came home on oxygen but no medication whatsoever. This is another miracle, since he should have come home very medically complex but really didn't.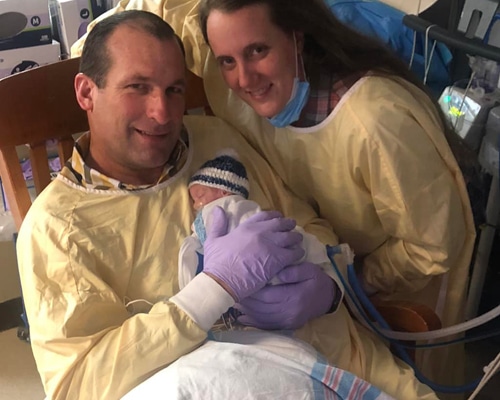 I'd been looking forward to coming home, but it was also difficult because of all the friends we'd made who came to feel like family. It was hard to say goodbye to everyone who had worked so hard to save Weston, to educate us, provide emotional support and help us navigate this new life.
Everything we'd learned about taking care of our other children who were full-term births went out the window when we brought home a micro-preemie baby. It was all different. We had to feed him a certain way, sit him up or he would choke.
Still, leaving the hospital with him as probably one of the best feelings ever, right up there with the feeling of holding our first baby for the first time—the wonder and magic of it all, thinking WOW, we actually made it. That day was surreal, and we all cried when we left the hospital.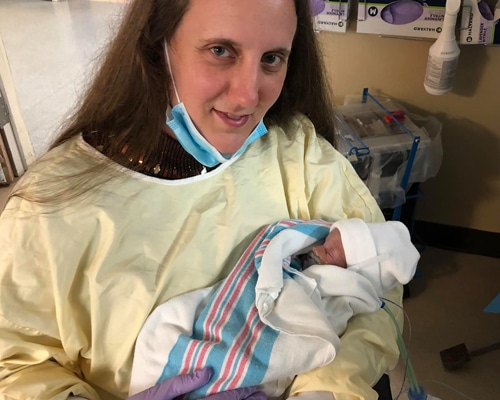 Naming Weston
I'm a big reader, and although I can't remember the name of the book I know I read the name Weston and loved it. I thought "If I ever have another little boy I want to use that name." His middle name is John, which was my dad's first name.
We had found out Weston is a boy at a blood test around 10 weeks. My doctor gave me the option to do the blood test for various abnormalities since I was older, but we knew it wouldn't make a difference to us. We felt it would be good to know as a heads up before his birth, but there were no abnormalities.
Only Two Trimesters
Since Weston was born at only 24 weeks, I didn't get to the third trimester. Early on I had a couple weeks when I was nauseous off and on but not bad enough that I couldn't function. I probably felt better with him than I did with any of my other kids, up until about two days before he was born.
The only real negative about this pregnancy was how exhausted I was all the time. That was probably a combination of having three other kids that we homeschooled and just being 40 and pregnant! Even though the kids were older, so pretty self-sufficient, many days I'd make supper and head straight to bed, very unusual since I'm typically a night owl.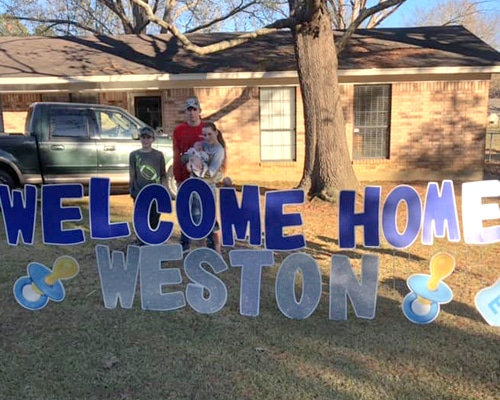 Advice for Other NICU Families
What I'd say to a preemie mom or friends and family of a preemie mom is those who helped support us were so important. Checking on us through texts, taking care of our older kids, bringing us meals—all of that made such a huge difference in our stay and recovery.
I was trying to keep my head above water, learn all the new terms, what was going on and what I didn't know. What was most helpful was those who would call to ask: Can we come get your older kids to do something? Are you home so we can bring you a meal? I didn't have to think about what I needed, they saw the need and took care of it.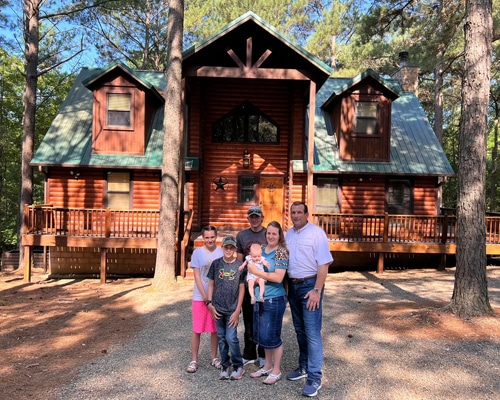 A Healthy Baby
Weston no longer needs oxygen and has been weaned off his seizure medicine. He's doing well, eating, talking and laughing, doing the things babies do. He's behind in some of his skills but not significantly. Most of it should be manageable with therapy to help with muscle tightness, and he should catch up.
He's already the most spoiled kid, the baby by a long shot. When you watch your baby struggle to breathe for weeks on end it changes a lot of what you view as important. Weston is a miracle baby, and I can't wait to see what God has planned for his life.
Your birth journey. Your voice.