Having my babies where I work was a little weird since I know everyone at St. Francis. I knew as soon as I walked in the text messages flew: "Katy's in labor!" It was all good though. I love my nurses and show them pictures of my growing boys when I see them at work.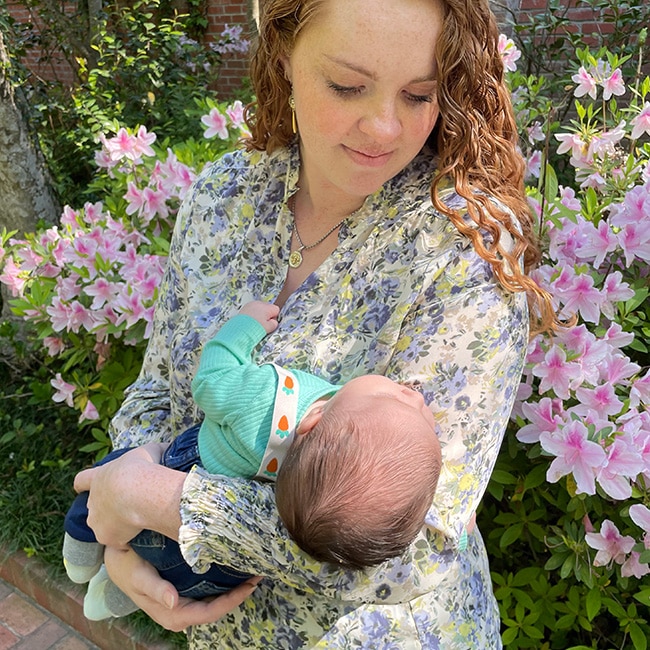 My husband, Kyle, and I welcomed our second son, Emerson, on March 4, 2022. Emerson joins older brother Elijah.
I grew up in South Carolina and moved to Louisiana to go to Louisiana Tech, where I met my husband and we've stayed here to raise our family. Elijah was born when I was 24 and Emerson was born when I was 27.
I've had both my children at St. Francis Medical Center, and I work for the hospital as manager of operations for our graduate medical education residency program. I started at as an administrative fellow and stayed to manage this new program.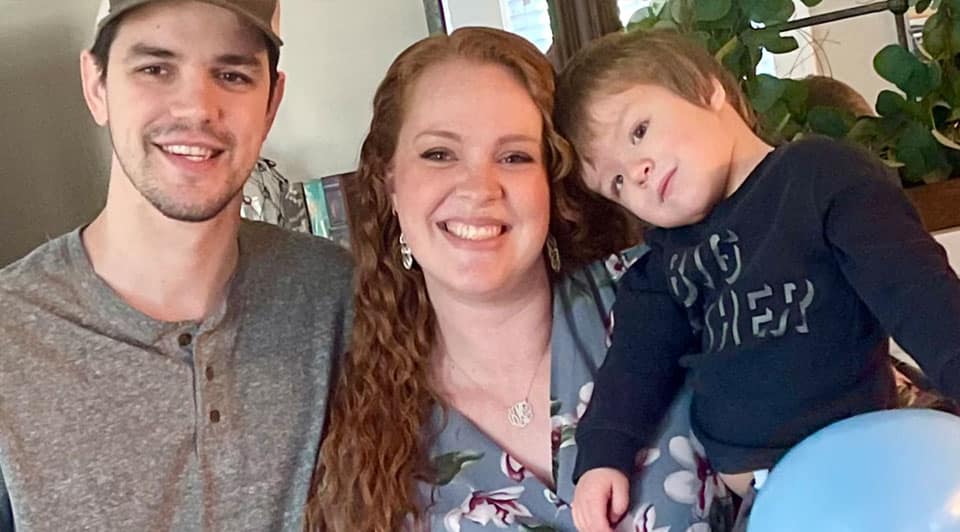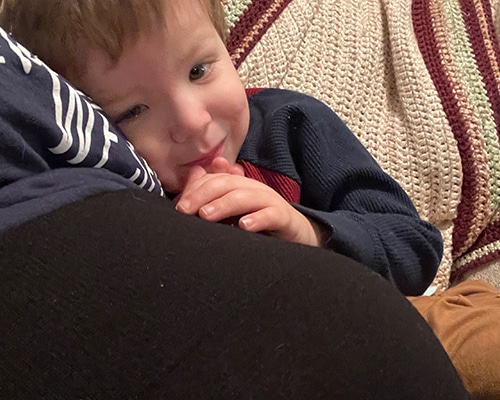 A Growing Family
We were at a point like yeah, we're ready to have another kid, so let's just let what happens happen. My husband was the first person I told after I had a positive pregnancy test. I didn't tell him in any exciting way. We're pretty fortunate that after the first month of trying we were expecting. I intentionally didn't want to pay attention to ovulation since it can be so stressful.
Elijah was 2, so he didn't understand really after we told him he was going to be a big brother, but he loved on my belly for the whole pregnancy. I bought Elijah a Big Brother T-shirt, and I'd put it on him when someone would come over, so that's how we told his grandparents.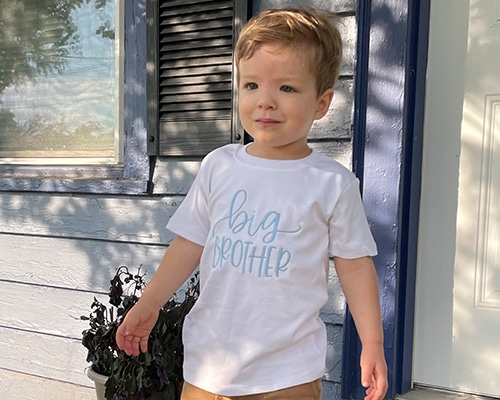 What's In a Name?
Emerson's name isn't particularly significant. Kyle was telling me a story about an ornery old man who lived down the road from him named Emerson, and the name struck me as a good one. Frances was the name of my husband's grandmother, I'm Catholic and St. Francis is a great saint, so we chose Francis as Emerson's middle name.
Managing Stress and Symptoms
With both pregnancies I for sure had fatigue and felt like I couldn't get off the couch during the first trimester. With Emerson the morning sickness wasn't quite as bad, but definitely had nausea in the mornings and some vomiting.
With the first one I was so fixated and stressed. The world of social media feels so dangerous and I read every worst case scenario possible. But this time I had a 2 year old, so I didn't have time to be fixated and could not stress about pregnancy in the same way.
During my first pregnancy I had blood pressure problems, but I didn't this time. My doctor, Amber M. Shemwell, MD, said most second time moms are less stressed since they've been there, done that before. I'm not sure if stress was the reason for the blood pressure issues in my first pregnancy, but I was definitely less stressed the second time around.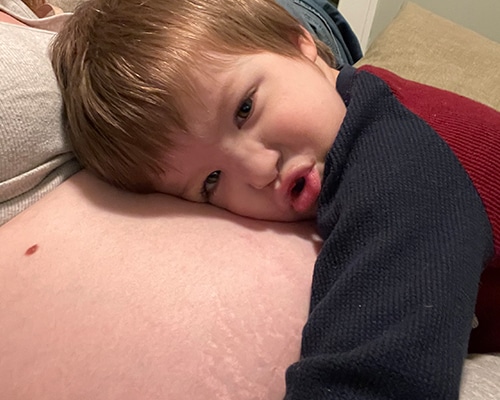 Second Trimester Symptoms
I had a lot of round ligament pain in my lower belly with this pregnancy, and I even struggled walking at a certain point. Lying in bed, rolling over in bed or getting out of bed became difficult. It was definitely a different pregnancy experience with that pain, and the pain got worse as the pregnancy progressed.
After Emerson was born I went to a pelvic floor therapist, and I wish I would have gone while I was pregnant. My pelvic floor just isn't as strong, and I was told it will get worse with each pregnancy so working with her helped strengthen it.
Cravings and Healthy Balance
I really loved the steak from our local, really pricy restaurant, and my husband was so mad at me. It's a red wine reduction steak and it's like a $50 to $60 meal, which I ate about once a week. I ate a lot of red meat during this pregnancy, so I am sure this kid is going to be a hoss. It's so funny though, because as soon as Emerson was born I haven't had that steak since. I also chugged a lot of milk but didn't really have any food aversions.
We're a walking family, so every evening we'd get out the stroller and go for a walk for pretty much the entire pregnancy. While I have a spin bike I didn't really use it while pregnant. I did make sure to stay active with the daily walks.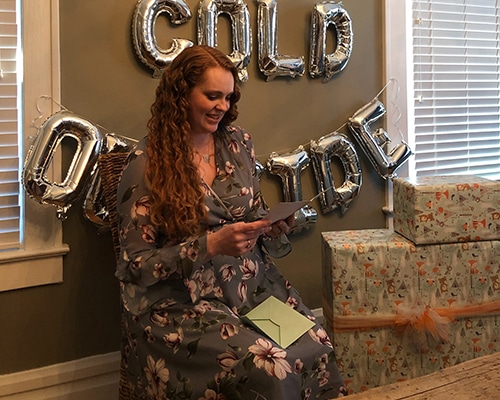 A Sprinkle for the Second
I had some friends throw me a sprinkle that was really nice. When Elijah was born we lived in a very tiny house, so we didn't register for a ton of big stuff like swings or anything that took up a lot of space because we simply didn't have the room. With Emerson we're living in a bigger home, so it was nice to register for some of those bigger items.
Into the Home Stretch
My husband worked a very demanding job, so I was on my own a lot with my toddler, getting him in and out of the car, to school and home each day. By the end of the pregnancy I was done and just tired, very ready to not be pregnant anymore.
I had my click connect car seat base installed in our cars by about the time I packed my hospital bag in the third trimester.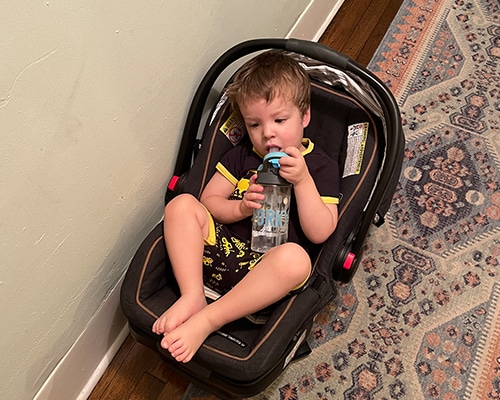 The hospital provides most everything you really need, but I made sure to pack a few luxuries to make me more comfortable. I splurged on a comfy nursing set this time, and it was worth every single penny. Feeling human the second go-round was very important to me.
After Elijah was born I was just thinking, what did I just go through? This is not my body, I'm not myself. So with Emerson I was intentional to wear a matching outfit and not look like I got hit by a truck. It made me feel not as crazy.
For my husband I made sure his mom packed him a big snack bag, as he was not prepared the first time. I wasn't able to eat during delivery, so I knew I didn't want to pack it for him. That became her dad gift to him, and I thought it would be a sweet gesture.
Early Labor
I am a big shopper, so on Thursday March 3 I was at the mall with my friend, and I was humongous, waddling through the mall. I was having contractions, but I didn't know if they were Braxton Hicks or not. So I went home, laid on my couch and they were consistent, about 15 minutes apart.
I texted my boss that I wouldn't be at work the next day, and I wanted to labor at home as much as possible. I went to bed and got some sleep.
With Elijah I went in around midnight then didn't sleep for two days. I knew I didn't want to be induced again if I didn't need to be, although our health was most important.
I was able to get some sleep, I would wake up with the contractions and sleep between them. It wasn't the best sleep, but it was sleep and worth it. By the next morning the contractions were still 15 to 20 minutes apart, so by 11 am after I'd been having contractions for 24 hours I called my doctor and they asked me to come in to be checked.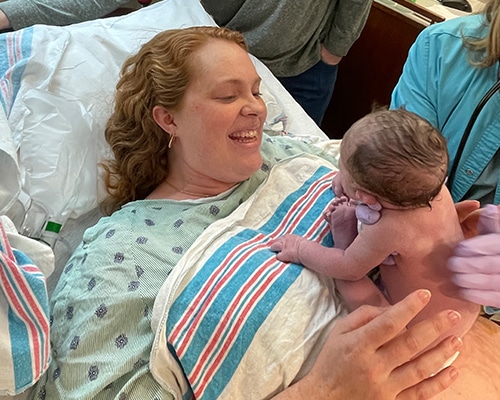 Emerson's Birth Day! Kyle and I grabbed our bags, dropped off Elijah with my parents and went to the hospital. Because it's where I work we didn't even think to use the valet parking, but parked in the garage as I normally would. My water broke walking in, maybe because of those extra steps! We went to the fourth floor and got registered. One of the nurses who took care of me was someone I went to college with and she was also my nurse when my first son was born. All the nurses were fantastic. I labored all day, and had him at 7:30 that Friday night, so right after shift change. I had hoped it would be a faster labor, since they say with a second it's faster but it didn't feel that way.
There was a night and day difference in how rested I felt. With Elijah I was induced at midnight, hadn't slept for days when he was born and was exhausted. So even though Emerson's delivery took longer than I would have liked, it was a normal delivery. I'd much rather not be induced when I have more kids, and we do plan to have more. Emerson did not cry at first, which scared me to death, but I think he's my strong, silent type. He weighed in at 8 lb. 12 oz., probably because of all that steak! I'm 6 feet tall, and my husband is 6'4" so big babies are to be expected. I had some minor tears again with this birth, but not as bad as my first delivery. That was the worst part and what I was most scared of before delivery.
Easier Recovery
I definitely recovered better this time than with my first one, especially hormonally. I didn't have the baby blues as hard. Don't get me wrong, I still cried in my postpartum room, like at some point I'm crying and I don't know why.
Emerson had to go under the lights to bring down his bilirubin levels. We had different blood types, so I sobbed like a baby. He did go to the nursery, whereas Elijah stayed with us the entire time. The nursing director was so reassuring to me, that it wasn't my fault and was nothing I did. I was able to get more sleep while he was in the nursery, which was another way the second delivery was a completely different experience.
Breastfeeding the Second Time Around
Breastfeeding helped flush Emerson's bilirubin, and the nurses would bring him in to feed while we were in the hospital. My milk came in on day four. He latched well and is definitely a big eater.
I'd learned a lot from the first go round. I had breastfed Elijah for a year. This time I invested in a cordless pump, which was really nice and has been worth it. I also started pumping right away, stocking up my freezer during my maternity leave. I feel like I never have as much milk as I do in the first weeks. Emerson fattened up really fast.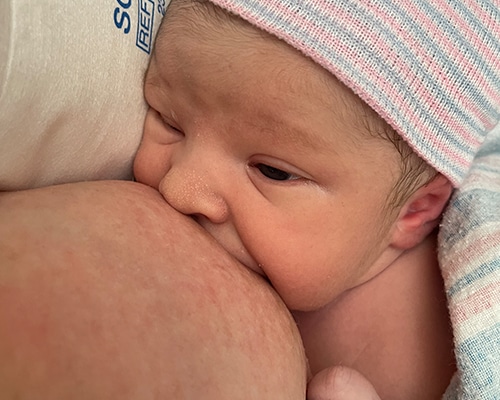 With both babies I did struggle with breastfeeding for the first couple weeks. It was extremely painful, which I think is more hormonal. Their latches were fine, but it was painful on my breast for about two weeks for both of them. It went away and after that two weeks you get in a rhythm. It took a couple weeks to get back into it, but then I was able to nurse and cook dinner.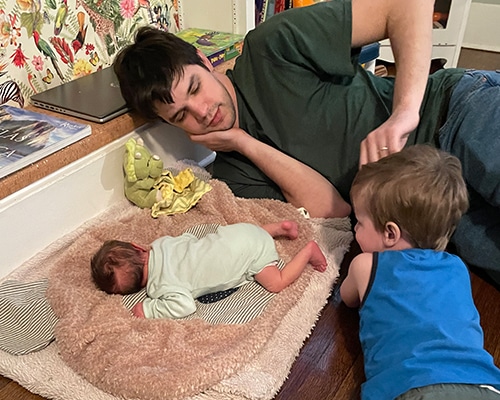 Adjusting As a Family of Four
Elijah has loved his brother from day one, and I can't keep him out of Emerson's face. He was super excited, and he was sometimes so tired but just wanting to be there and be a part of it. I have not had a single problem with Elijah adjusting, and he's done so well. As long as he's part of things, he's happy, and that made figuring out another new baby so much easier. I'm thankful for that.
Your birth journey. Your voice.