I feel blessed to be pregnant. My journey has been super easy and routine. I'm just amazed and proud of my body and what it's been able to do in this pregnancy. Being pregnant makes me feel super powerful.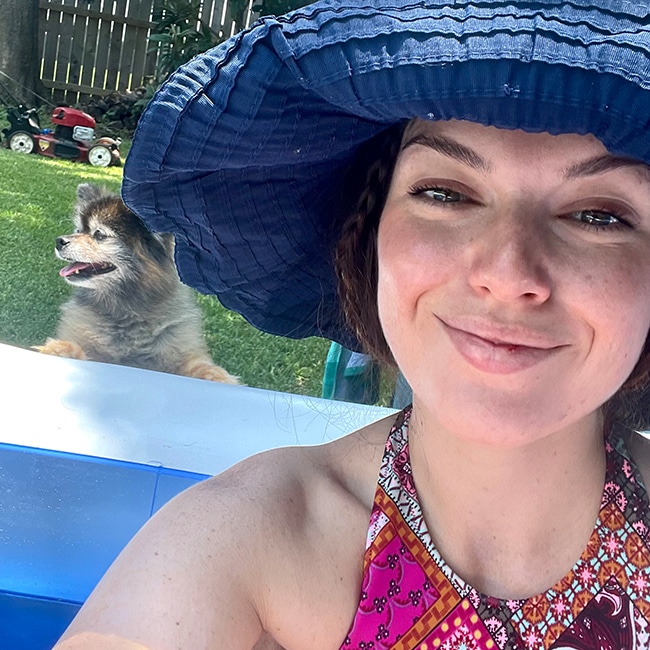 On December 29, 2022, I delivered my first child, a son, at Our Lady of Lourdes Women's & Children's Hospital, which is where I was born too, 28 years ago.
My husband, Ben, and I started dating as juniors in high school. We've been together for 10 years and married for five. I always thought we'd have children in our early twenties since we found each other young, but we decided to wait a while before we started our family.
We were able to take some time to focus on our careers and get established there first. I love the company I work for. They prioritize family, and I'm extremely blessed to have 16 weeks of maternity leave. 
We also got to buy our first home and invest in a "mom vehicle" for me before starting our family. Our family and friends who encouraged us to start having children years ago were saying "you're never ready." But I feel like we really have our bearings and I feel much more ready now, and I'm very happy we did wait.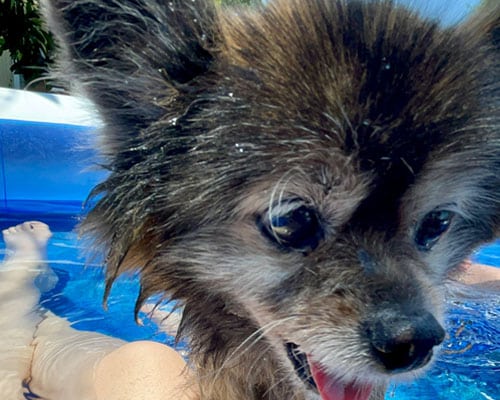 Parenting Practice
We have two dogs, a six-year-old Australian Shepherd and a 13-year-old Pomeranian. Our senior dog has prepared us for parenthood due to her chronic health issues. Last February she was diagnosed with bladder cancer and is in diapers full time. She also has esophageal issues so she has to be fed in a highchair. We've definitely been getting a small taste of parenthood.
A Special Name
We've decided to name our son Levitt James. We wanted something different but not too out there. Growing up, my first name was super unique, and though as a child I longed for a more common name, as an adult, I love that my name is different. I wanted to share that with my son as well.
We discovered the name 'Levitt' when Ben and I went on our first solo vacation together in our last year of college. We attended a music festival in Memphis at a venue named the Levitt Shell. It was a really impactful and memorable weekend for us, and I'm excited that we're able to memorialize it through our son's name. Also, we had zero girl names picked out, so we were excited to find out that we were expecting a boy.
Ovulation and Pregnancy Tests
When we first decided we were ready to get pregnant, we chose to just see what happened and not stress out about tracking ovulation. I ended up thinking that I could be pregnant during that first month. My periods are usually never late, and I was five days late so I decided to take a pregnancy test. There was a faint positive line that Ben confirmed that he saw, too. A few days later, though, after thinking that I was having a possible miscarriage, some tests confirmed that I was never pregnant and that I was instead just starting my period. The positive test ended up showing what I now know was an "evap" (evaporation) line.
After that month, I decided I would start tracking ovulation and decided to buy ovulation strips. I ended up getting pregnant right away. I started testing as soon as I was able since I was tracking ovulation, so I found out at about three weeks and four days. At first, the positive looked very faint, and I thought that it could be another evap line situation.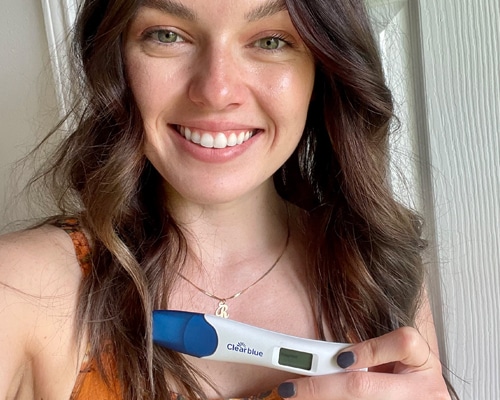 I waited to tell Ben about the positive test, which was emotional for me because I share everything with him, but I didn't want to get his hopes up. The next day, when the line was obviously darker, I shared my test results with a couple of trusted friends, to make sure I was indeed seeing a positive test. They said, "Remi, you're pregnant!" I was so excited, but still a little apprehensive.
As a final confirmation, I took a digital pregnancy test, which was the real kicker for me. Ben was still asleep, and he still didn't know I was testing. The digital test was positive, and I couldn't believe it. I decided to video me waking him up with the news, but when I went to watch the video, I'd never hit the record button! Total mom move.
As soon as Ben knew, I immediately Facetimed my parents. I can't keep good news in – I was just so excited!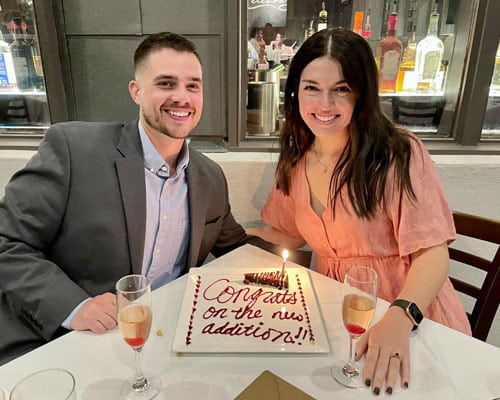 Early Pregnancy
My first trimester was great, and I couldn't complain. I had no morning sickness. I was sleepy a lot, and I was also hungry all the time. I was also extremely thirsty early on, which I thought was a strange symptom.
I did experience a lot of cramping, which I felt like nobody had talked about and I wasn't prepared for. It was concerning to me because I'd had a few friends go through early miscarriages and I struggle with anxiety, especially when it comes to my health, but my nurse assured me that these symptoms that I was experiencing were normal.
Before getting pregnant, I was super into fitness and working out at Orange Theory multiple times a week. Normally, I'm hyper-focused about what I eat and put into my body, but since getting pregnant, I've been feeling freer with what I eat.
After telling Ben, who is a lot less health-conscious than I am, that I wanted to go to a Chinese buffet on a random Tuesday for lunch, responded with "Are you serious? This has been a dream of mine." He's enjoyed pregnant Remi's eating habits a lot.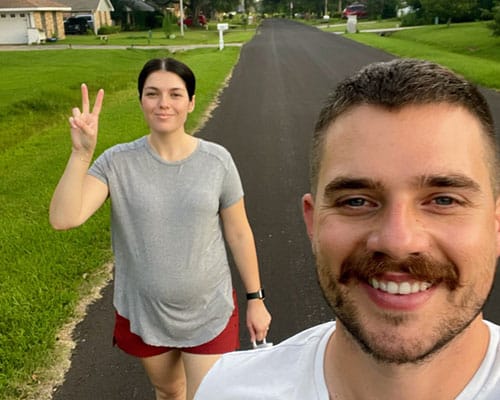 Physical Changes and Symptoms
I've always dreamed of having a super healthy, active pregnancy. And for the first half of my pregnancy, it just was not that. I ended up gaining a good bit of weight in the first and second trimesters, more than what my doctor, Breigh Foster, MD, was comfortable with. I decided to refocus and reprioritize my diet and activity in the second half of my pregnancy and was able to manage my weight much better by eating more high-protein foods and walking at least 30 minutes a day. My husband and I also took up playing pickleball every Tuesday night and that allowed me to stay active while also having a lot of fun.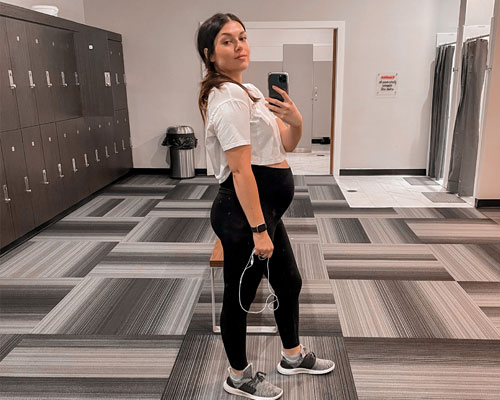 My ravenous hunger from the first trimester did go away in the second trimester and so did the cramping. Other than a couple of mood swings I very much felt like myself in the second trimester. Thankfully I have had no food aversions. I haven't had a ton of cravings, either, but I've really enjoyed eating sour things. I've been obsessed with grapes, satsumas and the Smart Sweets Peach Rings from Whole Foods. They are $9 a bag, but they're so worth it.
Though I didn't struggle with morning sickness, I did deal with a good bit of sickness during my pregnancy. I ended up getting COVID-19 twice during pregnancy, a stomach virus and pink eye. The stomach virus started the same day as my second trimester, and I was really worried that I was experiencing second-trimester morning sickness. Thankfully, however, it only lasted a week.
Another strange symptom I've dealt with is heat sensitivity, which is no fun in South Louisiana. If I get too warm, I get extremely lightheaded. But once I cool off I'm fine. In the middle of the summer, I straight up could not make plans if they involved anything outdoors. I am so thankful for the cooler weather, and that this baby was due in January!
A Boy!
We found out Levitt was a boy with some genetic screening bloodwork around 12 weeks. My nurse called me at 8:30 on a Monday morning, and we were so relieved to hear that everything came back normal. She asked me if I wanted to know the sex of our baby, and I immediately said "Yes!!!!" and called Ben to the room. Thankfully we were both working from home that day, although if he hadn't been home, I know I would have still asked her to tell me the gender. I just couldn't wait another minute.
She said "Are you sure you want to know?" and I said "I am sure!!" Then she said, "What do you think it is?" I'd been so apprehensive about this question up to now, because we wanted a boy and felt like we were having a boy, but I didn't want to seem upset if it were a girl. I told this to her and she said "It's a boy!" I let out a little scream and hugged Ben. We were so, so excited. 
We didn't want to have a big gender reveal but still wanted to do a reveal of sorts for our family and friends. I decided to bake cupcakes and put blue filling inside of them as the reveal. When family and friends would come over to visit we'd do a mini-reveal with them. It was really special.
I'm an only child, and Levitt is the first baby on my side of the family in 18 years. My family is losing their minds and are very excited. For Ben's parents Levitt is their fifth grandchild and we're excited that his sister is about 10 weeks behind me, also with a boy. I'm excited that Levitt will have cousins so close in age.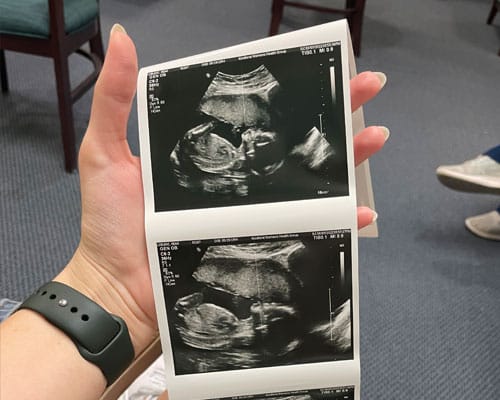 Health Screenings
I'd heard so many mixed messages about the screening for gestational diabetes, but I really didn't think the drink was that bad. It would be 100% better if it was carbonated. The worst part about it was that I didn't know I wouldn't be able to drink water for an hour during the test. Pregnancy has made me thirsty all of the time and I'd been drinking multiple refills of my Stanley 40 oz. tumbler, so not being able to drink water was a challenge.
Luckily, I passed the screening and haven't had any issues with my blood sugar.
I do have high cholesterol. I can thank my genes for that. It was high prior to pregnancy, and through a routine health screening at my job, I found out that it had gone up significantly (about 50%) during pregnancy. I learned that this can be normal in pregnancy. I discussed this with my doctor, but she isn't concerned about it and said that we'll check it again after delivery.
Preparing with Class
I was able to take a birthing basics class with the hospital's pregnancy navigator. It was very good and informational. Part of dealing with anxiety around my health, is wanting to have control over things but not being able to. I've been apprehensive to put a birth plan together, because I don't want to feel like my birth isn't "successful" if it doesn't go the way that I plan for it to. But learning about all the things that can happen at birth has made me feel much more at peace about it.
In my third trimester, I tried to focus on learning all there is to know about breastfeeding and taking care of a baby. Ben and I aren't around many babies, although we have some friends with an infant and we've learned a ton from them as well as being able to babysit for them. I call her my practice baby, ha! Taking care of her has made me more prepared for our baby.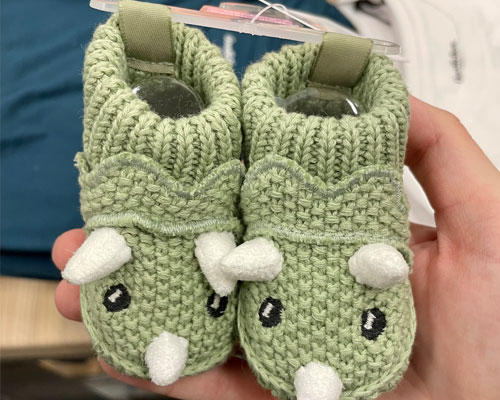 More Planning
I loved the process of making a baby registry. Researching, organizing and putting all the needs and wants in one place (via Babylist) was the best part. My dad bought us the car seat and stroller of my dreams in my second trimester. I know that having the car seat installed correctly is super important, and we've been reading the manual and learning from car seat safety experts on Instagram to make sure we get it all figured out and installed correctly before we go to the hospital.
We established pediatric care with Brian Bailey, MD, after he was recommended to me by the hospital's pregnancy navigator. It's crazy to me that I can just give the hospital the doctor's name at birth and he'll come and physically check on Levitt once he's born.
As for pre-registration at the hospital, I took care of that early on in my second trimester. It feels good to check things off my "Before Delivery" list.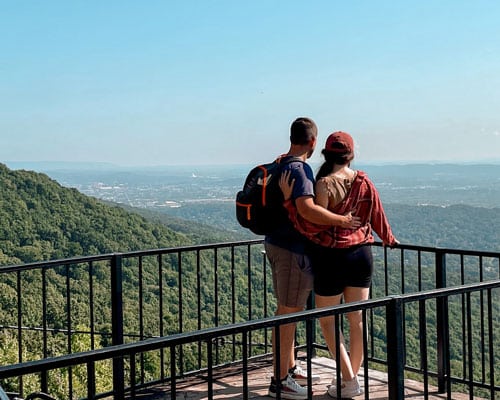 Looking Forward to Delivery
I have talked to a lot of other moms who have done different things for their births, some natural, some with epidurals, some C-sections. And hearing their stories has been very helpful for preparing my own mind for mine and just all the things that could happen.
I am learning from this baby that I am less fragile than I feel. My body and my baby have both proved to be super resilient. I'm very proud of my body for taking us through these months of pregnancy.
Time to Deliver
Throughout my pregnancy journey, I've loved that Levitt's due date was January 1st. I'd strangely made it a goal of mine to have him on that day. During my 39-week appointment, Dr. Foster expressed her concern about the size of the baby and not wanting to let me go past 41 weeks. She then said, "We actually can induce you tonight if you'd like."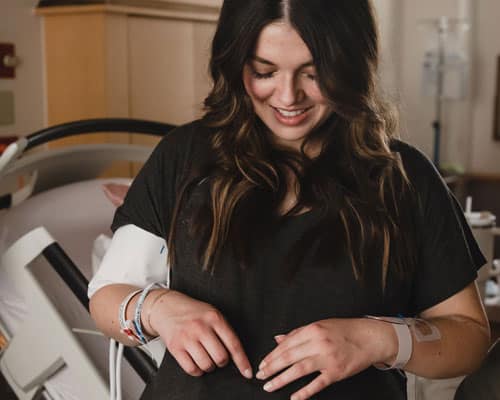 I was so caught off guard by how soon we could actually have the baby. Ben and I took a couple of hours to discuss and ultimately decided that yes, we would go induce that night. We went in to the hospital around 11 o'clock Tuesday night to begin our induction. Ben and my nurse set up string lights to make the room feel more welcoming. All of the nurses that would come in to do checks absolutely loved them.
I progressed to 1 cm fairly quickly, and I was pleased with this. I stayed at 1 cm for almost 24 hours, however. After not much progress had been made, they let me take a break and get a little something to eat before starting the induction process again.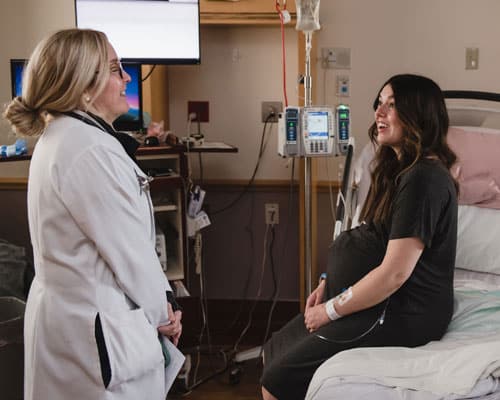 Pitocin and breaking my water sped things up a good bit. I was able to progress to about 2.5 cm. That's when I decided it was time to get the epidural. I then decided to spend some time on my side, with the "magical peanut ball" as the nurse called it. In about 40 minutes, I went from 2.5 cm dilated to ready to push. After experiencing very little progress the day before, I was so excited about finally being able to meet our son.
I spent about an hour pushing and then, our son was born at 7:10 a.m., Thursday, December 29. An ounce shy of eight pounds, Levitt James finally joined us, and was a perfectly healthy baby boy.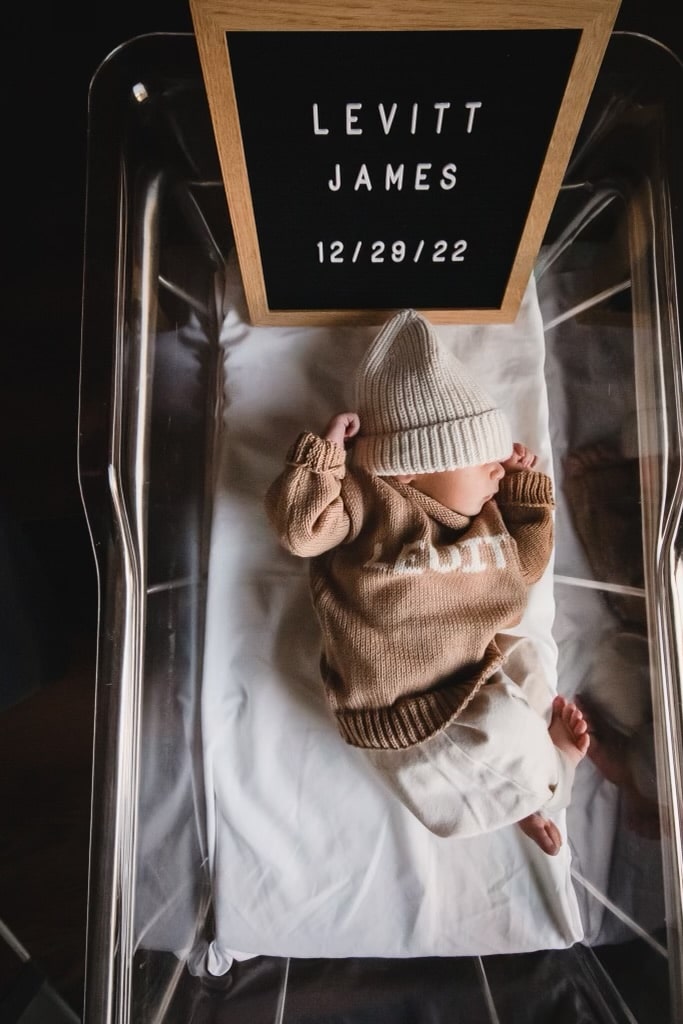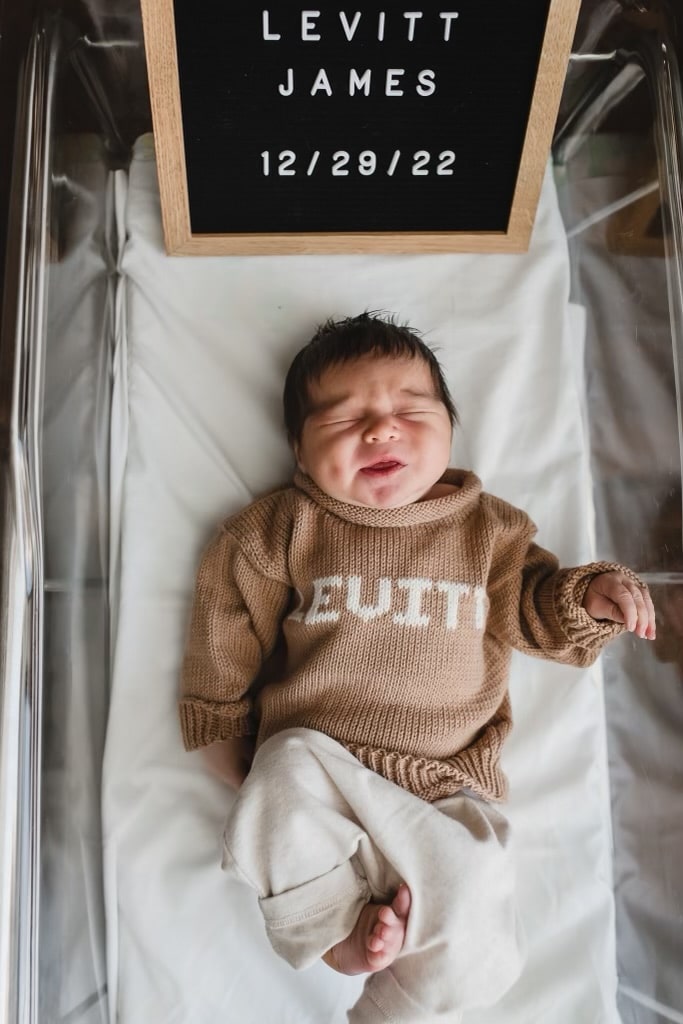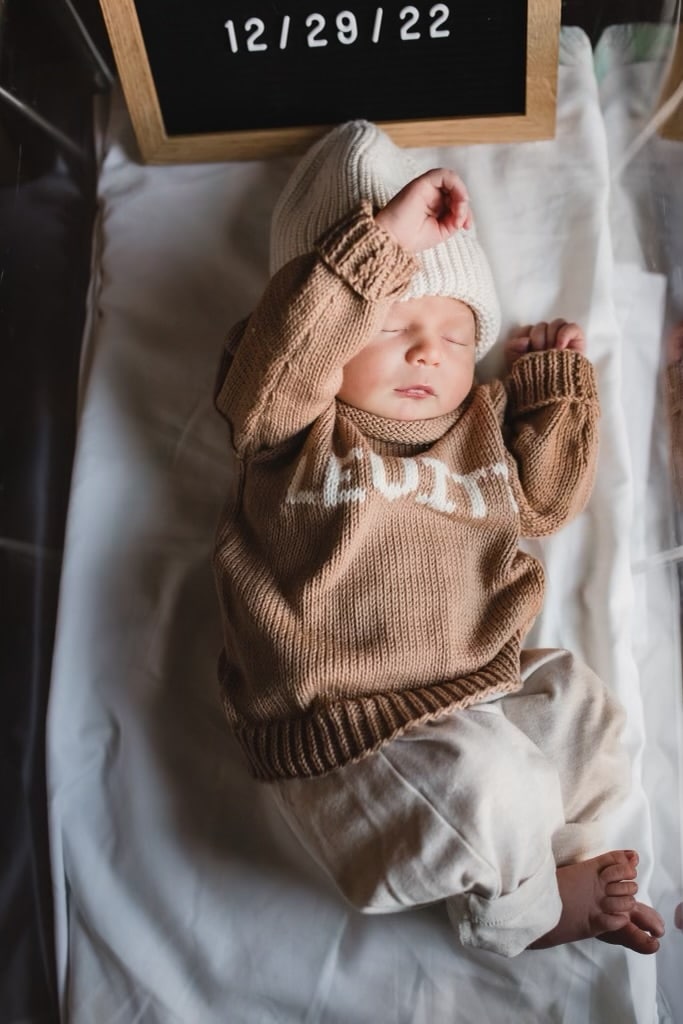 Recovering
I ended up hemorrhaging right after I delivered, which felt scary in the moment. Dr. Foster kept the room calm, and ultimately, everything was ok.
The days Ben and I spent in the hospital following delivery were the sweetest to me. I felt like we were in our own little bubble. Friends and family knew that Levitt was here, but for a short time, we were able to focus on just the three of us.
I also loved having nurses and doctors around to make sure everything was going as it should and if you're breastfeeding, the hospital cafeteria gives you double portions! I was actually really pleased with how good the hospital food was.
We welcomed in the new year in the hospital and went home on January 1, Levitt's due date. I was sad to leave the hospital, and all the people we'd met who had helped us (at all hours of the night) during our stay. But it was sweet to bring our son home and start our new life together as a family.
Your birth journey. Your voice.